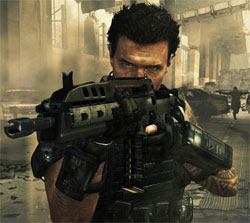 SHOOT!!
I get a lot of bewildered looks when I show people new episodes of my Remixing series. It isn't immediately obvious that I did any editing to
Retrogamer3's horrible Double Dungeons review
,
Gamer Girl Kimi's attempt to make DMC sexy
or
my bullying of Trent Gamer
. As you can imagine, this frustrates me. But don't worry, because I have a plan.
This time around I'm not going to look at just one annoying YouTuber. Instead, I'm opting to look at ELEVEN insufferable vloggers! I've assembled some of the goofiest reactions to the
Call of Duty: Black Ops 2 announcement trailer
. What do these people think of Activision's newest blockbuster? Will they like the futuristic setting? Will they be able to steer clear of obvious racist comments? These were the questions I set out to answer with the help of eleven of my new best friends. Let's see what they had to say.
Source Material:
Usually I link to the original material, but there's simply too much of it this time. I decided to go on a search for recently posted Call of Duty: Black Ops 2 reactions and this is what I got. Some of the original videos were short, while others went on for ten minutes. Needless to say, I don't want to hear anybody else's opinion about Activision's new first-person shooter until it actually comes out. Yes, I'm talking to you
Trent Gamer
!