People often ask me what it's like to be a world-famous games journalist. They want to know firsthand what it's like to jet set around the world playing games, attending events and hanging out with celebrities. Unfortunately, it's nothing like that! Being a games journalist means you sit on your butt all day typing. In an attempt to show you what it's like to write about games, Defunct Games is proud to introduce a brand new comic series: The Adventures in Game Journalism! Now you will finally see what it's like to be an editor at Defunct Games!
ADVENTURES IN GAME JOURNALISM!
[ Episode: 1 | Title: Game Journalist Meets a New Friend ]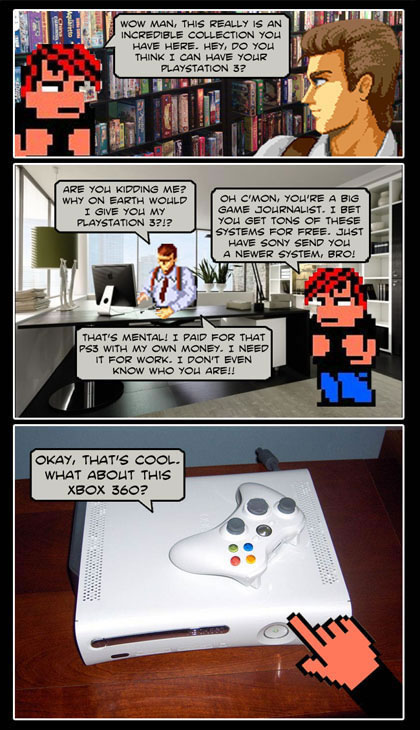 CLICK TO MAKE LARGER!
Check back soon for the continuing Adventures of Game Journalist! Where will he go next? Maybe it's a game convention, press event or exclusive interview. Nah, it's more likely he'll go to the fridge to figure out what hasn't expired yet. No game journalists were hurt in the making of this comic. I think.