Welcome to YOLO, the video series where I play as much of a game in a single life. No continues or cheating; I only have one life to live. Join me as I tackle a different game every THURSDAY and SUNDAY. And don't forget to subscribe to the
Defunct Games YouTube channel
for more content!
My name is Cyril Lachel and you're watching YOLO, the only show that's guaranteed to end in heartbreak. I'm taking the challenge to play every game with a You Only Live Once attitude. In this case, literally. I'll play exactly one life of every game, seeing just how far I can make it in a single turn.
Today we're looking at DJ Boy for the Sega Genesis. This is a port of the popular arcade game from Kaneko. This console version was developed by Inter State, who also ported Heavy Unit and Air Buster. I've strapped on my skates, so let's go ahead and push the start button and see what happens.
CAN'T GET ENOUGH DJ BOY?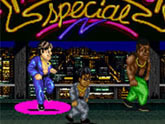 FIVE CONTROVERSIAL FACTS ABOUT DJ BOY
Released on the Genesis and in arcades the world
over, DJ Boy is best known for having a roller skating
hero and being incredibly racist. Find out why when
you read Five Controversial Facts About DJ Boy!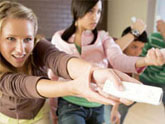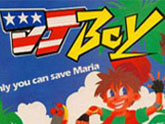 BAD AD: DJ BOY (KANEKO)
Cyril Lachel tries to find something good to
say about the DJ Boy (Genesis) print ad.
Trust me, it's bad. It's a horrible, awful,
very bad ad.