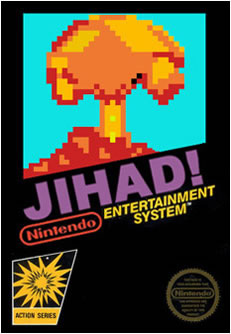 Do you remember when video games could get away with just being called Kung Fu, Golf, or Ice Hockey? Do you remember the classic days of 8-Bit graphics and uncomfortable two button controls? Do you miss the days when the music from the games got under your skin and tried to rip away your will to live?? Well, wait no longer, because Jihad is on its way!
Defunct Games is happy to bring you the first box art for the upcoming Nintendo Entertainment System game, Jihad. Developed by Nintendo in house, Jihad will bring the excitement of the news with the quality of the 8-Bit graphics. You've never seen action quite like this; it's as if you were there dehydrated and unwashed.
But don't worry; your friend can help, too. Using a brand new technique known as "co-operative play", Jihad will allow your friend to wait until you die before he can play. Just imagine how much better the game will be once you've seen what you're up against, it's a technique that will surely spark a trend.
In Jihad, gamers will be able to get rid of the enemies in a number of unique and wacky ways, including jumping on their heads, throwing balls at their heads, or just letting them fall down that hole in the level. As a freedom fighter, you will see it all when you take control and try to control the Jihad!