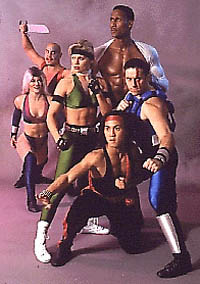 When it comes to the Player Select we're here to talk about every genre, from adventure games to first-person shooters. We don't care what type of game it is, we just want to look at the characters and give them an up or down vote. But even though we are not opposed to tackling a role-playing game, it's hard to deny that this section was made for fighting games. What other type of game allows you to choose from dozens of characters, each with their own stories and interesting quirks? We started this show off with Street Fighter, now it's time to look at Ryu and Ken's biggest competition, Mortal Kombat.
While Street Fighter was bright and cartoony, Mortal Kombat was dark and full of mythology. By the time Midway got around to releasing this sequel Mortal Kombat was a house hold name, parents groups and politicians took the game and made it the poster boy for the evils of video games. Thankfully Mortal Kombat II wasn't just a retread, it improved every aspect of the game and gave us a whole new game to love. To this day it remains the peak of Mortal Kombat's greatness, creating a unique world and a whole bunch of interesting fighters. Join me and guest critic John Bertagnoli, as we take a look back at each and every one of the characters in this remarkable product. Get those Friendships and Babalities ready, you're about to Finish Him!
LIU KANG
Details:
Liu Kang is the ultimate stereotype in fighting games, a fusion of both Eastern and Western traditions in martial arts movies. Although in name a Shalin fighting monk, his style and manners owe more to Bruce Lee; he has the typical turkey-voice, moves quickly and possesses formidable fighting skills. Throughout the series, he has been gradually portrayed as the main hero, becoming Grand Champion after the first Mortal Kombat tournament, and then mainly following whatever quest Raiden had in mind for him. His infallible good-guy persona seems to have contributed to his overall popularity, hence why this character trait made Liu Kang somewhat noticeable.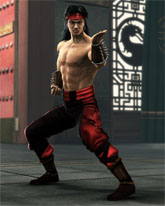 Cyril Lachel:
Lui Kang has never struck me as being an interesting character. He always struck me as being the vanilla martial arts student who only exists to represent a stereotype. When compared to the other demonic characters Lui Kang was just boring, he didn't feel as fully developed as the rest of the gang. He's just boring. But he's a standard, which may explain why there are so many other fighting games with characters that look just like Lui Kang. But at the end of the day I just feel that Lui Kang is simply average, a character barely worth talking about.
VERDICT:
C+
John Bertagnoli:
Even though Liu Kang borrows a bit of his move set and appearance from Bruce Lee, I can't be too hard on him for it. In the Dead or Alive series you get a character like Jann Lee; a character that bears a more than passing resemblance to Bruce Lee, including using his trademark style (Jeet Kune Do). Super Street Fighter 2 had it's inclusion of Fei Long. Fei Long is a character that is by and large Bruce Lee. Even his back story talks about his stint as a Hong Kong action star, and a martial arts genius who creates his own eclectic style. In comparison to those two, Liu Kang is a relatively unique idea; not only that, his down, up, right kick is hilarious.
VERDICT:
B-
KUNG LAO
Details:
It's as if Kung Lao enjoys being in the shadow of others, finding a reclusive form of peace there. He stands in the shadow of his great ancestor, seeks counsel from master Bo' Rai Cho, and for a long time, was the comrade and sparring partner of Earth's champion, Lui Kang. Like him, he is a Shaolin monk and a descendant from the Great Kung Lao. Of the Earthrealm warriors, Kung Lao is the most outspoken pacifist, although he will not hesitate to defend himself if necessary. His trademark is his razor-rimmed hat, which he can employ in combat. Kung Lao is defined more by his mindful inwardness and quiet intelligence than his strength. Inside of him beats the heart of an unmistakably righteous and good man.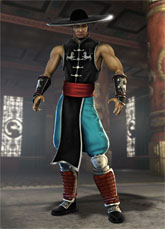 John Bertagnoli:
I won't lie, Kung Lao never really got passed the novelty stage with me. I always found him clunky and repetitive; and once the "guy who throws his hat, which has a razor blade on it" effect wears off, I was just kind of left with a guy with big boots and slow attacks. I suppose if he had his kid's speed he'd be redeemable, not to mention he felt really tacked on in the game he debuted in.
VERDICT:
C
Cyril Lachel:
Oh John, you are so wrong about Kung Lao. This is a great character, his look is unique and he's a lot of fun to play with. Best yet, he has a giant hat that can be used for some of the most brutal fatalities you will ever see. How can you not love that hat? Hats as weapons have always been cool, no matter what era we're talking about (lest I remind you of our friend Oddjob and his battles with James Bond). He may not have the most interesting back story, but Kung Lao is one of the great additions to the Mortal Kombat universe.
VERDICT:
B+
JOHNNY CAGE
Details:
In the eyes of many, Johnny Cage is the typical American movie star: laid back, suntanned, and enough attitude to take on the whole world. Of course, as with many of these stock characters, his attitude is merely a shield to defend himself from his critics, who never leave an opportunity unused to question his fighting skills on the scene. He takes few things seriously in life but himself, but in turn the world seems to do just the opposite.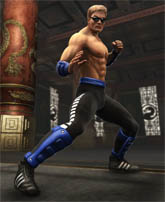 Cyril Lachel:
Johnny Cage is the parody character, the ironic fighter who is all about the "Hollywood" scene. Your Steven Seagal or Jean-Claude Van Damme, if you will. Stylistically he's not my favorite, in a lot of ways he's pretty boring (especially when it comes to his look). But I love the idea of a wannabe fighting in the Mortal Kombat universe, somebody so full of himself that he's willing to do whatever it takes to go all the way. Unfortunately Johnny's story was pretty two dimensional; it's a story that ran out of steam early in franchises life. But even with this set-back I like Johnny Cage, he's a good addition to the Mortal Kombat roster.
VERDICT:
B-
John Bertagnoli:
Now and forever, Johnny Cage is the guy who punches people in the nuts. I don't care about any of his other moves. I know he can "shadow kick" and "shadow rush fury special combo upper," but none of that matters. Johnny Cage is the kind of guy who comes to a fight wearing nothing but shorts and sunglasses, and I respect the hell out of that. Not only is he half naked, but if you leave yourself unprotected you've got a 90% chance he's going to do the splits and punch you in the crotch. The complete lack of subtlety here is on par with Goro. Unfortunately, save for that move and the opportunity for some kick juggle cheese, he's still a pretty shoddy fighter.
VERDICT:
B
REPTILE
Details:
Reptile embodies the archetype of the unhappy underling. He is physically hideous and repulsive, but he is renowned for his great stealth and unquestioning loyalty. Unlike many other henchmen of the lords he has served, Reptile does not strive for power. Reptile was the very first secret character hidden in the Mortal Kombat universe, a bonus treat that would become a series mainstay. In Mortal Kombat II they brought him from out of the shadows and made him a full time character.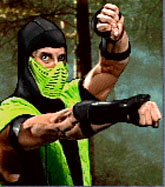 John Bertagnoli:
I have to give the guy credit for being a hidden character in the original MK. Fighting him in the pit was a learning experience for everyone involved. Despite his "special" status, he just never really lived up to the hype of his other ninja brethren. He might have been the "loyal, quiet, strong type" but I always felt Scorpion fulfilled that role a little better, especially since Scorpion had his manly "GET OVER HERE" and Reptile just had the mystique of a poorly animated green head. Though in all fairness he did allow you to spit acid in people's eyes and blind them. Well, hypothetically blind them, but I would think if you were to projectile vomit acid at someone you'd be bound to do some ocular damage. B- for eye gouging. Also I like green.
VERDICT:
B-
Cyril Lachel:
I don't care much for Reptile. It was nice to have him hidden away in the original Mortal Kombat, but I didn't feel he was needed in this sequel. There are already too many similar-looking characters as it is, there's no need for another one with slightly different moves. As John pointed out, it's hard to find a spot for him in this game when there are so many other dynamic characters. Reptile just doesn't have anything that sets him apart, which is not what you want to hear when you're a Mortal Kombat character. He also has a very stupid name, kind of makes you wonder if he would get along with Lizardman from the Soul Calibur series.
VERDICT:
C-
SUB ZERO
Details:
Like his name, clothes, and powers suggest, Sub Zero is icy and distant. In all aspects, he is a cold-blooded killer with an utmost dedication to the principles of his clan, and to whomever has paid him to kill. Although essentially neutral, Sub-Zero has an indelible seed of evil.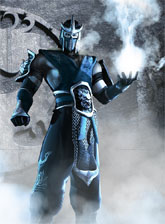 Cyril Lachel:
We can argue all day about how Sub Zero, Scorpion, and Reptile all look the same and how it's lazy programming, but it is what it is and there's nothing we can do about it. The fact that there are three characters that look very similar doesn't bother me, especially since they all have unique attacks (and back stories). Sub Zero is particularly interesting; he's the only character with the ability to freeze their enemies in their tracks. He has a fairly useless lower attack where he freezes the ground as well as a number of frontal ice attacks, all leading to some pretty cold fatality moves. Sub Zero (along with Scorpion) are very symbolic of what Mortal Kombat strives to be. I like this character, even if there are two others fighters that look exactly the same.
VERDICT:
B+
John Bertagnoli:
I won't argue about palette swapping here, as although it's a lazy practice; it's also a gaming fact of life. Enough semantics though, Sub Zero was probably my favorite of the ninjas, only edging out Rain and Ermac due to their lack of a tangible back story. Sub Zero had revenge, drive, and a great fatality. Ermac and Rain had similar move sets if I remember correctly, but they didn't have the cool demeanor of Sub Zero (no pun intended). With his infamous spine-ripper fatality and an all around cool moveset that involved immobilizing his opponent, he graduates at the head of his class.
VERDICT:
A
SHANG TSUNG
Details:
Shang Tsung is a demonic shape shifter, who needs to consume souls in order to sustain his health and life. In the Mortal Kombat series, he is the epitome of cunning and decadence, as symbolized by his preference for lavish parties, grand palaces and stylish clothing. Unlike the crude Shao Kahn, this bombast is a fa?ade of Tsung's true intellectual and mental sophistication. His nevemsis is Liu Kang, but through his unnatural lifespan, he has earned the mortal hatred of many people.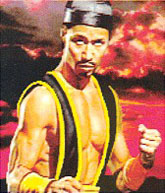 John Bertagnoli:
While I always thought that Tsung was the trademark "old, wise, sensei" character, I think it was a great move to effectively make him a necromancer. Pat Morita can't eat souls. He could try, but inevitably Ralph Maccio would retain control of his unearthly property. Tung Fu Ru, Gen, Gen Fu, even Nicotine could try their damndest, but chances are the only one who could get close to the "evil sorcery" practiced by Shang would be Nicotine (of Samurai Showdown fame), and in the end Shang would probably eke out a victory due to his lackeys. Though "lackeys" aren't present as tag characters in MKII, Shang's necromancy is. When push comes to shove, guys who eat souls tend to win.
VERDICT:
B+
Cyril Lachel:
I like the idea of a shape-shifting character that allows you to take the form of any of your enemies, that's a really good idea. I do prefer the look of Tsung in the original Mortal Kombat, but I can live with this younger character. I don't like his costume, though, that's something that has always bothered me. Also, considering how important he was to the story of Mortal Kombat it feels like he's sidelined a little bit with this sequel. Still, the idea of this character far outweighs his shortcomings. To this day I like the idea of shape shifting, we should see more of that in fighting games.
VERDICT:
A-
KITANA
Details:
Princess Kitana is 10,000 years old, although she appears to be in her twenties. She looks like a young, elegant female who often wears tight blue garments. Through the storyline of the games, she has risen to great importance, first as stepdaughter of Shao Kahn, tearing herself away from his grasp and freeing Edenia, then leading an army into Outworld herself. Kitana combines features of discipline, intelligence, loving and perseverance.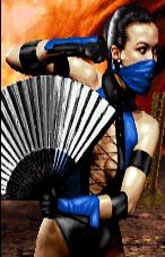 Cyril Lachel:
Kitana is one of the few female characters in Mortal Kombat II, which is a real disappointment if you ask me. We're living in the days of Dead or Alive 4 where half of the cast are busty women looking to beat your butt. So it's kind of odd to see just a couple of gals to play as, but I guess that's the sign of the times. Kitana looked a lot like the other women in Mortal Kombat II, but had a set of extremely sharp fans to work with. With her skin-tight blue outfit Kitana is also a good looking character, even though it's hard to love somebody who could be that brutal to her male counterparts. Her mask does scare me, though; you never know if it's covering up a botched lip surgery or something. It's best to watch your step around this one.
VERDICT:
B
John Bertagnoli:
I really don't have much to say about Kitana. I mean it's cool that she decided to take the high road and break away from her adopted father; what with the sabotaging and all, but at the same time she just feels wholly uninspired. She can kick ass with the best of them, but I just don't buy what she's selling. Maybe I'm biased, but I just don't dig chicks who can't take off their masks and swallow your entire torso whole.
VERDICT:
C-
JAX
Details:
Jax was the first African American character in the Mortal Kombat series and made his debut in the second game. He is portrayed as an archetypical Americna hero. In the chain of command of the Special Forces, he is Sonya Blade's direct superior, and clearly the catalyzing force of Sonya's impulsiveness. Jax is clear-headed, careful and always keeping a watch on what his men are doing, but when the need arises, he is a beast on the battlefield with the attitude and ferocity of a lion. He unscrupulously makes use of the most advanced technology to improve both himself and his unit.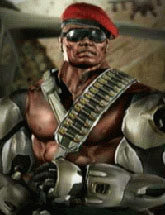 John Bertagnoli:
Jax just goes to show that if you lose your arms in a tragic forklift accident, you can still be the token black guy. His is a dream of diversity, a dream of a peaceful coexistence between outworlders and those of this realm. Not really; in fact I think the main reason I remember him being so badass is due to his kickin' rad cybernetic arms that can tear the arms or other appendages off of his opponents. Rendering them armless, or "unarmed," you might say. Unless they're Goro/Kintaro: then they would have 2 arms left. That would kick em' down a notch.
VERDICT:
B+
Cyril Lachel:
Oh give me a break, Jax is a terrible character and that whole fighting after your arms have gotten ripped off thing is just ridiculous. My problem with Jax is that he's not that interesting of a character. He's pretty much the token black guy, a safe character who loves his country. The whole soldier aspect of his character bores me and his design is beyond generic. I know there are a lot of people that really like Jax, but in a game where you have species with swords that come out of their arm, you really have to step it up a notch if you're going to be memorable.
VERDICT:
C-