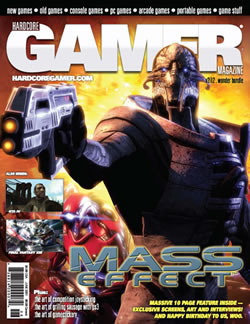 Click here to make larger!
Cover Story:
In this issue Hardcore Gamer Magazine takes a look at Mass Effect, one of the biggest games of 2007. With ten pages of fresh impressions, new pictures, and news, Hardcore Gamer Magazine gives you all the information about Mass Effect you will ever need!
Reviews:
F.E.A.R. (PS3), Super Paper Mario, Dawn of Mana, Full Auto 2: Battlelines, Atelier Iris 3: Grand Phantasm, and more!
Special Features:
This month's Hardcore Gamer Magazine has all the usual goodness, including a look at the arcade scene, import reviews, fan art and much more. And if that's not enough for you, now if your chance to see what the HGM team thinks of Rockstar's upcoming Grand Theft Auto IV!
DOWNLOAD THIS ISSUE IN PDF FORMAT