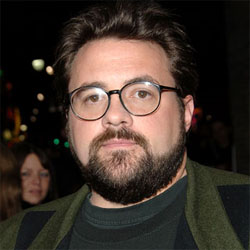 If they would let him on the plane, Kevin Smith would be the perfect guy to play Johnny Turbo in a big budget action movie!
It's been a tough year for Johnny Turbo. We first checked in with NEC's TurboGrafx mascot one year ago in an episode called
Johnny Turbo: Let 'Em Dangle
. Since then he's been in an out of anger management classes, dealt with a serious drinking problem and hit rock bottom when his life partner broke up with him. Thankfully he's on track to making a full recovery. For their part, NEC has stuck with Johnny Turbo (whose real name is Johnny Brandstetter) through these rocky months. But maybe they'll want to think twice about their allegiance with this troubled super hero.
In this newest episode of Johnny Turbo we check in to make sure everything is all right. Unfortunately, FEKA has a new master plan. But will a newly sober Johnny Turbo be able to resist the call to action ... or will he rage on and accidentally hurt somebody? I think we already know the answer to this burning question. Defunct Games is proud to present the further adventures of Johnny Turbo and his nerdy sidekick, Kennedy. Will they be able to bust the bad guys and save the world from the evil FEKA? Find out now when you download all five pages of Johnny Turbo Shoots First!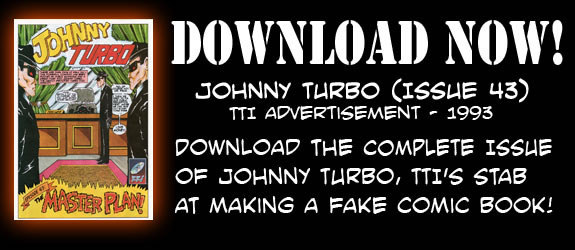 About These Seven Pages:
It's hard to be a super hero these days. You get into one battle with a multi-billion dollar company and all you get is bad press. But don't worry, because Johnny Turbo is ready to make a name for himself. He's caught wind of FEKA's newest plan, which involves ... giving out money to homeless kids? Something doesn't make sense and Johnny Turbo knows is. Join him as he battles FEKA and proves yet again why he's known as video game's most violent mascot character!





NOTE: While the artwork may be real, TTI had nothing to do with the pure venom being expressed in the new story. It's worth noting that the United States is not becoming socialist, and if you think it is then you're as crazy as Johnny Turbo. If you don't like the way things are going, then perhaps you should get out there and do something about it. But not in a violent way. Don't listen to Johnny Turbo, he's crazy!