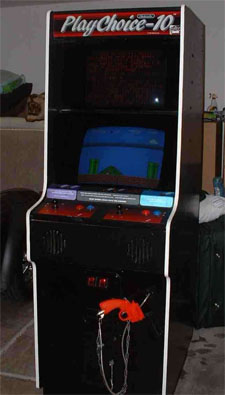 Nintendo proves yet again to be at the forefront of another giant trend!
Now that we're at the birth of another brand new video game generation it's nice to look back and experience the games that brought us to this moment. The Super Mario Bros., the Ghosts N Goblins, the Street Fighter II. These and thousands of other games paved the way for Ghost Recon: Advanced Warfighter and Resistance: Fall of Man. But it's easy to lose track of these old games. They get pushed to the back of our mind as we try to comprehend the newest gadgets and more complex games. That's why video game compilations are so important; they offer you a disc full of classic games that you can play any time you want. They make it easy to access several (if not dozens) of games for a nominal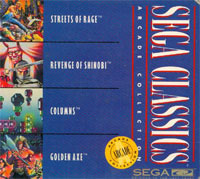 Will your favorite video game compilations make our list?
fee. They are a good deal for the consumers and a way for the publishers to keep their older games alive.
Since video game compilations are doing so much good I wondered why nobody was trying to figure out which were the very best. You see those kinds of lists all over the internet and in magazines, yet nobody was paying attention to the poor video game compilation. So I thought I would change that. I decided that it was about time to show people what the best of the best looks like. It's time to finally determine once and for all what the best video game compilation of all time is. Does it have anything to do with Sega? Does it have Pac Man in it? Can you play it on your PlayStation 2? All of these questions will be answered when you read Defunct Games' list of
The 50 Compilations That Rocked The World!!
Action 52 (Genesis)

Number of Games:
52 - Including Star Evil, G-Force Fighters, Operation Full-Moon, Dam Buster, The Cheetahmen, Time Warp Tickers, Beeps and Blips, Evil Empire and Fuzz Power.
We Say:
Although we are attempting to name the best compilation of all time we always have time to look at one of the earliest examples of the bad game collection. Nothing about the Action 52 is good, the games are horrible, the price was all wrong and nobody has ever sounded cool bragging about their Genesis game that has 52 games. But these days bad game collections are a dime a dozen, the Action 52 started that trend. And to think, people actually spent $200 to play games like Billy Bob, Dyno Tennis, Air Command, Black Hole and Challenge. The real "challenge" here is finding a game you will want to play for more than 52 seconds. Thankfully we can only go up from here.
Tecmo Classic Arcade (PS2)
Number of Games:
11 - Including Bomb Jack, Tecmo Bowl, Rygar and Star Force.
We Say:
When making a list of the top 50 compilations of all time it's important to feature a couple of products that could have been great, but just couldn't make it work for whatever reason. This Tecmo Classic Arcade should have been cool; it's by a company that had more than a few big hits in the 1980s and 90s. But this collection blows; it's one of the worst Tecmo products I've ever seen. Even games that should have been great (like Tecmo Bowl) fail to impress. The only reason you would want to buy this game is if you've collected every other game on this list!
Arc the Lad Collection (PS1)

Number of Games:
Arc the Lad, Arc the Lad II, Arc the Lad III and Arc Arena.
We Say:
If you're a fan of long winded PlayStation role-playing games that look like they belong on your Super Nintendo then the Arc the Lad Collection is perfect. This Japanese RPG series is not for everyone, but if you're up for several lengthy adventures then you will find a lot of value in this Collection. None of these games really stand out as a classic, but it will take you more than one hundred hours to finish these quests. That's a lot time so you better get started as soon as possible.
Irem Arcade Classics (Saturn)

Number of Games:
3 - 10-Yard Fight, Zippy Race and Spartan X.
We Say:
There's no doubt about it, this Irem collection is weak. Instead of offering gamers a wide selection of their greatest hits, Irem decided to give Japanese Saturn owners three ancient games that probably didn't even take up 10 megs of the CD-ROM. The best known game in this set is 10 Yard Fight, one of those 8-bit footballers that people have fond memories of but wouldn't play over the newest Madden. Zippy Race and Spartan X sound exciting ... but they aren't. This entire collection is actually pretty boring; the type of boring that makes you not want to import this product. Perhaps that's one of the reasons this is stuck down in the 40s. Better luck next time, Irem!
Activision Anthology (PS2)

Number of Games:
54 - Including Barnstorming, Kaboom!, Keystone Kapers, Fishing Derby, Spider Fighter, Robot Tank, Pitfall!, Okie Dokie, Tennis, Thwocker, Title Match and Vault Assault.
We Say:
After hearing us complain about the paltry selection of games on that Irem collection Activision has decided to go the other direction. Instead of focusing on two or three really big titles Activision decided to just throw in everything they could think of. Activision Anthology features 54 different games; unfortunately all of the games kind of look the same. This compilation does feature a number of games you'll probably remember, it featuers Pitfall! And Robot Tank and Kaboom! But there are also a lot of other games you've never heard of that just aren't any fun. A good compilation will not only bring back memories to the long-time fans of the games, but it should also show newer gamers what was so cool about these classic games. This Activision set won't convince anybody that those games are better than World of WarCraft.
Buster Bros. Collection (PS1)

Number of Games:
3 - Buster Bros., Super Buster Bros. and Buster Buddies.
We Say:
This original PlayStation collection features three of Capcom's craziest arcade puzzlers. You get Buster Bros., a game where you shoot harpoons into the air trying to pop giant bubbles (turning them into smaller bubbles). And if that wasn't enough, you get Super Buster Bros. and Buster Buddies, each with different weapons and characters. Despite it's bizarre premise the game proves to be instantly addictive and is easy to recommend. The three Buster Bros. games can even be played with a friend, which turns a throw away arcade game into one of the best party games around. Okay, maybe it's not one of the best party games around, but it's still a lot of fun and well keeping in your collection.
Nintendo Puzzle Collection (GCN)

Number of Games:
3 - Dr. Mario, Yoshi's Cookie and Panel De Pon.
We Say:
Nintendo Puzzle Collection isn't a bad game, it features three solid puzzle games that are just as addictive now as they ever were. Dr. Mario is really the star of this collection, but don't rule out Yoshie's Cookie. The problem with this compilation is that it only features three games, it feels like there's a lot of unused space on the disc. Where is Nintendo's version of Tetris? Nintendo may not be known for their puzzle games, but it still would have been nice to get more variety. With Tetris and a few other titles this collection might have been placed higher on our countdown.
Midway Arcade Treasures (PS2)

Number of Games:
24 - Including the original Rampage, Rampart, Gauntlet, Spy Hunter, Klax, Smash TV, Robotron 2084, Marble Madness and Root Beer Tapper.
We Say:
The very first PS2 Midway compilation had its share of problems. Some of the games felt odd with the new controls and the menu system was a mess. But none of these problems affected the really good games, including Smash TV, Rampart and Gauntlet. The mediocre games seem to outweigh the really great titles, but there's enough here to recommend it. It's fun to go back and see how the original Rampage does not hold up while the overhead Super Sprint is still one of the best three player games around. You can pretty much skip 720 Degrees now that Tony Hawk has entered the picture, but this collection is worth your $20 for one game and one game alone ... and that game is RoadBlasters!
Metal Slug Anthology (PSP)

Number of Games:
6 - Metal Slug, Metal Slug 2, Metal Slug X, Metal Slug 3, Metal Slug 4 and Metal Slug 5
We Say:
A warning for anybody who wants to go through SNK's Metal Slug Anthology: make sure you don't attempt to go through all six games in the same day. Do not ignore my pleas, your hand will thank you for splitting the Metal Slug time up into several days instead of a few hours. Johnny, don't be a hero! This Metal Slug set does exactly what SNK should have been doing from the get-go, packaging a bunch of games together for one low price. The Metal Slug series is one of SNK's best, but if you play them all on one day you will completely lose track of which game is which and your life would cease to have any meaning at all. This is a fun set of 2D shooters, but use Metal Slug at your own risk.
Konami Antiques: MSX Collection (Saturn)

Number of Games:
30 - Including Boxing, Ping Pong, SkyJaguar, Super Cobra, Twin Bee, Gradius, Gradius 2, Comic Bakery and King's Valley.
We Say:
Don't feel bad if you've never owned an MSX, most people in the United States have never heard of one let alone own one. Although you may not know much about the MSX chances are you've heard of at least a few of the computer's popular games, like Gradius, Castlevania (Vampire Killer), Super Cobra, Twin Bee and Metal Gear. Almost every major Konami franchises got its start from the MSX and you (along with
GamePro
) didn't know it. Konami released two of these MSX Collection discs in Japan, but good luck finding them. This collection offers you dozens of Konami's very best ... assuming you only care about the 1980s. You get a nice selection of games, good memories and some useful information. Unfortunately almost everything is in Japanese, but this collection is worth tracking down if you have a chance. You'll probably be the only person you know that owns it.