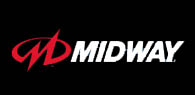 CLICK HERE to see the site we're talking about and judge for your self!
The arcade may be on its way to the grave, but that hasn't stopped Midway from becoming one of the biggest game companies in the United States. This is a company that built itself up with a stable of fun arcade games. In the 1990s you couldn't go more than two arcade cabinets without running into a Midway game, many of which were turned into top-selling console games. But things change, and the real money is not in arcade games, but rather consoles.
This year Midway surprised nobody with their line up of sequels, updates, and compilation discs. With only a handful of original titles, fans of Midway's various long running series were in luck this year. So far this strategy has worked for Midway, whose revenues have increased just about 50% last fiscal quarter. This brings us to the question of the hour ... is this game plan applied to their website? Or does Midway have something special in store for us?
Look and Design:
On one hand Midway's website features a whole bunch of things to click on and look at. But then, as you
Perhaps if we all pray together we can stop Hollywood from making the inevitable Mortal Kombat 3 feature film!
start to look through the site you can't help but noticed how cluttered it is. This is just not a very attractive site, but does its job and gets you the information with little to no problems.
Although Midway has pages set up for the GameCube, Xbox, and PlayStation 2, most of those pages feature the same games with the same information. The Xbox and PlayStation 2 pages look almost identical, while the GameCube page manages to set itself apart by, well, only featuring three games (Midway Arcade Treasures 1 and 2, and the upcoming release of Mortal Kombat Deception).
Accessibility:
Midway allows you to search through a number of unique areas that will please a whole lot of different users. For example, if your interests lie in how well the company is doing, Midway has you covered. And don't worry if you just want to find info on a game, this website has easy to find pages on all of the most recent Midway titles. Or maybe you just want a job ... good news, Midway has a whole section devoted to you employment seekers!
In the archive page Midway states that they "[have] been a leader in the industry since the dawn of the video game revolution, with early breakthrough titles including Pong, Defender and Spy Hunter. Recent Blockbuster titles include Ready 2 Rumble Boxing, Hydro Thunder, NFL Blitz and the Mortal Kombat series." But none of those games seem to have a web presence. It has a little pull down menu next to it
I'm sorry, but this man does not look anything like The Rock!
that allows you to look up these old games by their platform, but for some odd reason none of the consoles I choice had any games listed. It's not for a lack of trying, I might add, it just seemed like this part of the page was broken.
Insider Information:
A lot of the websites we have already covered have featured piss poor news sections, and Midway is no exception. They have several articles a month, but only a few of them are worth reading. Things go from just average to worse when you start to look at the sites atrocious color scheme. Most of the news is set up to be white text on a baby blue background. You really have to squint to get a clear look at the text, but if you're actually looking that closely at the Midway news page, then perhaps you should consider getting a hobby or some friends.
Parting Thoughts:
Midway has been known to make good games, but originality is not their strong suit. On their front page they list all of their current games, and not a single one of them is an original title. Mortal Kombat Deception (GameCube version), NARC, LA Rush, and Area 51 are all based on old arcade games, while Unreal Championship 2 is a sequel to one of the Xbox Live launch titles. Whether this is a coincidence or just a trend we don't know, but it doesn't put much hope that there will be a lot of unique and creative ideas from Midway anytime soon.
FINAL GRADE: B-
(Important Note: This review was written on November 26, 2004. As is the case with websites things tend to change and get moved around. We've decided to cover major companies who should have a presence on the web for many years to come, but the actual reviews of the layout may not be relevant for more than a month to a year. Having said that, we're hoping this article was still interesting, and if not, at least you go this extra little paragraph of explanation that you wouldn't normally get on the other websites.)