It's the time of the year when the days get shorter, retailers stay open longer, big games are released and there seems to be a holiday every other week. Defunct Games wants to ring in this festive season with a look at back at some of video gaming's most questionable power-ups. Join us from November 28 to December 25 for a month of floating orbs, life extenders and special cloaks.
POW
[ Game: Gun.Smoke | Year: 1985 | Console: Arcade ]
Gun.Smoke's POW weapon is not only one of the most powerful items found in an 8-bit game, but it's also the most confusing. The very idea of this weapon seems dubious, leading us to make this video asking a few very important questions.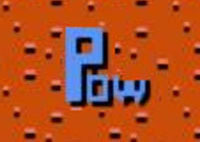 POW (Gun Smoke)
Purpose:
POW is for those times when you're overwhelmed with enemies and all hope is lost. One touch of this powerful weapon and every enemy will drop over dead. Thankfully the weapon spares our hero, who is free to pick-up dropped items. But like all arcade shooters, it won't take long for replacement enemies to show up and ruin your day.
Legacy:
Although it was made famous in Gun.Smoke, this POW item was also seen in a number of other Capcom arcade games. Fans of both Commando and the 194X series will remember this helpful power-up. It's only a matter of time before Capcom revives the POW item for the next generation consoles.
In Real Life:
Want to kill everybody on the screen at the same time? We have the technology. From small drone strikes to a nuclear bomb, the United States government knows a thing or two about killing a lot of people at once. And just like Gun.Smoke, most of this killing is done while watching a screen. Sadly, these weapons kill indiscriminately, which is a fancy way of saying that everybody dies ... even the hero.