Welcome to YOLO, the video series where I play as much of a game in a single life. No continues or cheating; I only have one life to live. Join me as I tackle a different game every THURSDAY and SUNDAY. And don't forget to subscribe to the
Defunct Games YouTube channel
for more content!
My name is Cyril Lachel and you're watching YOLO, the only show that's guaranteed to end in heartbreak. I'm taking the challenge to play every game with a You Only Live Once attitude. In this case, literally. I'll play exactly one life of every game, seeing just how far I can make it in a single turn.
Today we're looking at Shadow of the Ninja, the game that would later because Ninja Gaiden Shadow on the Game Boy. It has a couple of big names behind it and scored well with critics back in the day. Let's see what happens when I push the start button!
CAN'T GET ENOUGH SHADOW OF THE NINJA?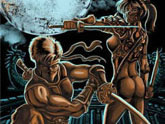 SHADOW OF THE NINJA: HAYATE GOT A RAW DEAL
Hayate got a raw deal. After saving the world from the
evil Emperor Garuda, our hero's adventure was whitewashed
in order to make a new Ninja Gaiden game for the Game Boy.
How could this happen? Find out now when you read another
exciting episode of A Brief History of Gaming!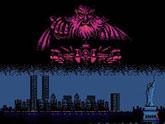 SHADOW OF THE NINJA (LEVEL 1)
Today we celebrate our final update before the big Defunct
Games 10th anniversary! In this exciting episode of Level
1 we're taking a look at one of my favorite 8-bit ninja
games, Natsume's Shadow of the Ninja. Does this game have
what it takes to go up against Ninja Gaiden? Either way,
push the start button and check out this week's
installment of Level 1!