Welcome to YOLO, the video series where I play as much of a game in a single life. No continues or cheating; I only have one life to live. Join me as I tackle a different game every THURSDAY and SUNDAY. And don't forget to subscribe to the
Defunct Games YouTube channel
for more content!
My name is Cyril Lachel and you're watching YOLO, the only show that's guaranteed to end in heartbreak. I'm taking the challenge to play every game with a You Only Live Once attitude. In this case, literally. I'll play exactly one life of every game, seeing just how far I can make it in a single turn.
Today we're looking at DuckTales, the Capcom classic that was first released on the Nintendo Entertainment System. This game later appeared on the Nintendo Game Boy, and a quarter-century later we're finally getting an HD remake for the PlayStation 3 and Xbox 360. That's one of the reasons we're here today. Hopefully this quick look at DuckTales will get you in the mood for the Scrooge's adventures. So let's go ahead and press the start button and see what happens.
CAN'T GET ENOUGH DUCKTALES?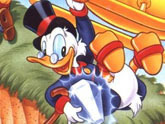 REVIEW: DISNEY'SDUCKTALES (NES)
Where's going back to the cartoon that put the Disney
Afternoon on the map. It's DuckTales for the Nintendo
Entertainment System. This stylish platformer proved
that you can turn a licensed kids show into a must-own
cartridge. Find out what Cyril thinks when you read his
full review of Disney's DuckTales for the NES!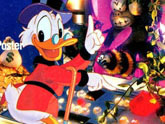 NINTENDO POWER UNCOVERED #8: DUCK TALES
We're a full month into our lonely journey to review
every single Nintendo Power cover. Today we're looking at
Duck Tales, which could have been an excuse for the cover
department to fall asleep on the job. Thankfully they
didn't! Duke Tales is yet another solid cover from
Nintendo Power, and now you can see for yourself when
you read our full review of the September/October
issue of Nintendo Power!