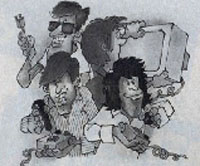 EGM in 1989!
For as great as Electronic Gaming Monthly was at the time, their covers were frustratingly inconsistent. Some months would see designs that really stood out on the newsstand, while the very next issue would look like it was assembled by a bunch of screaming pre-schoolers. Couple that with a reliance on screenshots and box art, and EGM covers are a real mixed bag.
But instead of being discouraged by the magazine's varying quality, I have decided to take a closer look at each cover and figure out what it is I like (or, most likely, dislike) about each of them. I'm going to go year-by-year, starting at the very beginning. Today we'll be looking at all six issues from 1989, including two different Video Game Buyer's Guides. In the following weeks I will tackle 1990 through 2009. Here are the best and worst Electronic Gaming Monthly covers of 1989.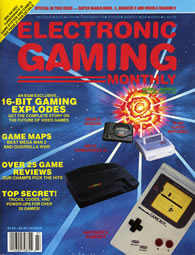 THE BEST:
ELECTRONIC GAMING MONTHLY #2
"16-BIT GAMING EXPLODES," screams the EGM headline. If that's the case, then why are the Game Boy and TurboGrafx-16 the two most prominent consoles on this cover? Quibbling about "bits" aside, this is a creative design that mimics the Big Bang. The blue is a nice touch and I like that the cover doesn't rely on screenshots. The explosion in the distance is also a neat piece of art, and it's the kind of thing you won't see on any future EGM cover.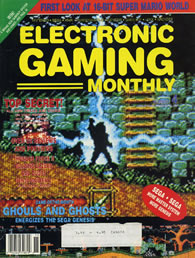 ELECTRONIC GAMING MONTHLY #4
While not a great cover, I will give EGM credit for using a screenshot that completely hides our hero. In case you don't already know, that's Sir Arthur from Ghouls 'N Ghosts, and he's using his special armor to shoot lightning. I'm not a big fan of using screenshots as covers (as you'll discover as I talk about each issue), but I do love how dramatic this scene is. It's a shame the only ghoul and/or ghost is completely covered by up "TOP SECRET!" hints and "over 25 reviews and previews."
ELECTRONIC GAMING MONTHLY
(The 1989 Buyer's Guide)
Released three months before the magazine's first issue, many consider The 1989 Buyer's Guide to be EGM's official premiere. This issue proudly trumpets that it's part of the "U.S. National Video Game Team" and covered more than one system. To prove this, they featured the likes of Castlevania II, Predator and Thunder Blade. The use of original artwork (albeit minimal) makes this one of EGM's best looking buyer's guides.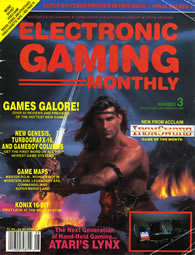 ELECTRONIC GAMING MONTHLY #3
When not using blown-up screenshots, EGM liked to toss box art on their magazine covers. This was the case with their third issue, featuring the long, flowing hair of male-model Fabio. From a production standpoint, this is a pretty cool design. The fire looks good and the mountain in the distance is appropriately menacing. But even with all that going for it, I still have a hard time accepting Fabio in this role. And while I'm on the subject, I also have a hard time accepting that this is butter.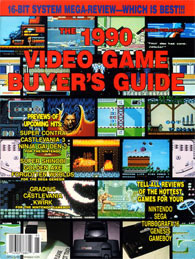 ELECTRONIC GAMING MONTHLY
(The 1990 Video Game Buyer's Guide)
Is this an issue of EGM or the control room at CNN? With more than two dozen screenshots and photographs, this buyer's guide certainly made 1989 look exciting. A closer look uncovers a number of fan favorites, including Ninja Gaiden, Double Dragon II and Super Mario Bros. 3. It's cool to see all these games in one place, but this design gives me a headache. I get car sickness just from trying to read the text. Word to the wise: Less is more.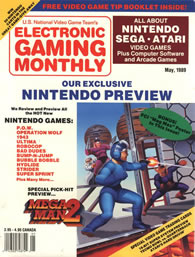 THE WORST:
ELECTRONIC GAMING MONTHLY #1
While this premiere issue didn't give me a headache like EGM's buyer's guide, I did find myself dosing off while studying this cover. It's not that there isn't anything exciting on display (that Mega Man 2 artwork is genuinely badass), it's just that it's dwarfed by a sea of white. The promise of reviews, previews, trading cards and tip booklets would have worked better on top of the action-packed artwork. They quickly abandoned this style of cover. Good riddance.
Still want more magazine reviews? Then don't forget to check out past episodes of both
Nintendo Power Unplugged
and
Next Generation Unplugged
. Both shows take a longer look at each magazine cover, giving us a chance to add historical context and properly critique the design. And don't forget to
get a hold of me on Twitter
to let me know what other magazines you would like Defunct Games to cover.