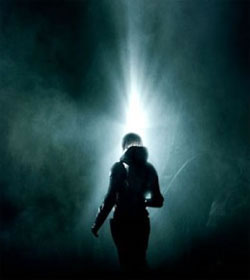 Alien prequel ... or futuristic Alan Wake?
Last week fans of the Alien franchise took to their local movie theaters to make Prometheus the number one movie in the country. Ridley Scott's newest film brought in an impressive $50 million ($141 million worldwide), making it one of the biggest opens for an R-rated movie. The movie was such a big hit that even video game critics have decided to weigh in. At least, that's what the Happy Console Gamer (aka Johnny Millenium) decided to do.
In case you haven't heard, Happy Console Gamer has a successful video channel on YouTube. You may also know him as the person RetroGamer3 gushed over in
this recent video
. Johnny seems like a likeable enough guy, but sometimes he has a hard time keeping a straight thought. As a result, many of his videos meander from one tangent to another, never quite coming together in a coherent way. This Prometheus review is no exception.
To demonstrate my point I've decided to devise a fun game you can play at home. Below you will find an unedited clip from Johnny's recent movie review (
"MY PROMETHEUS MOVIE REVIEW!"
). How long will it take Mr. Millenium to get to the point and actually review the movie? Place your bets now and start the show!
Stunning! That's all I can say about this performance. It took Johnny half of his video to say word one about the actual movie. He danced around it every way he could. He talked about production leaks, European reviews, DVDs, VHS tapes, a laserdisc and even the memories of seeing the movie in the theater when he was a kid. And just when you think he's going to start reviewing the movie, he takes a sharp left and reviews the 3D effects.
Eventually he does get around to his review, but by then he barely has enough time to say anything worthwhile about this divisive sci-fi romp. Even more depressing is that there are edits in the video, so he actually cut chunks out of the final version. In my nightmares I fear the three hour director's cut, complete with the song and dance number (deleted over copyright concerns). That will keep me up at night!