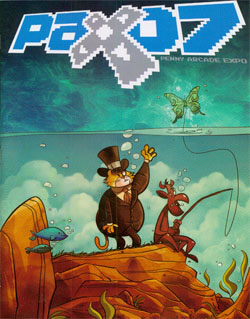 We went, we saw and we conquered! That's the general feeling here at the Defunct Games office about the recent Penny Arcade Expo. We had a great time running from one side of the exhibition hall to the other making it to interviews, meeting appointments, playing all of the games, and getting into all of the panel discussions. It was a wild and crazy time, but we definitely feel that it was an overwhelming success. Now that we're back from the Emerald City we finally have the opportunity to look through all of our notes and write about what we saw. And boy did we see a lot, more than what will fit in just one article ... no matter how many pages we use.
This is the Top 10 Things I Learned at PAX '07, our very first story about this year's Penny Arcade Expo. This is a collection of the good, bad and downright hilarious moments that we witnessed in Seattle at PAX. In this article we manage to cover everything from the panel discussions to the game booths to the surprise guests, it's a brief look at three days of craziness. Regardless of whether you made it to the show or not, this Top 10 List should give you a taste of some of the most interesting (and unintentionally funny) moments of the weekend. If you feel you can handle our very first Top 10 List in almost two years (has it really been that long?) then I recommend you scroll down a little and experience the Top 10 Things I Learned at PAX '07!
Hollywood is Actually Spelled: "Hollyood"

I've never worked in PR and have never been tied to a convention booth answering stupid questions for nobody websites like Defunct Games. But while I may not know the ins and outs of the public relations game, I do know that it's a bad sign when that stupid website that is interviewing you suddenly notices that your high profile licensed game has a major spelling error right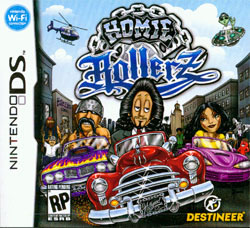 smack dab in the middle of the cover art. Believe it or not, that's exactly what happened when we were interviewing Destineer, the makers of the upcoming racing game, Homie Rollerz.
Homie Rollerz is a brand new kart racer starring the popular two inch figures you get out of vending machines. I've decided that I'm not going to make fun of the rough condition the game was in (there's a lot of polish left to be done) or how it's yet another Mario Kart-clone (there hasn't been one of those yet this year), instead I'm going to be upbeat and positive and talk about how nice it is to see a game with an all Hispanic cast of characters. Homies creator David Gonzales should be commended for creating a cast of characters that is unlike anything else on the Nintendo DS. But he shouldn't be commended for his spelling, because there's no excuse to spell the word "Hollywood" without the "W" (see the license plate in the picture). Worse yet, all of this could have been resolved had David walked a few kiosks over and played Destineer's popular spelling game, Word Jong.
The Omegathon Is Officially An Advertisement

For those who have never been to the Penny Arcade Expo, the Omegathon is a series of competitions that weed out the good gamers from the bad. Every year the Omegathon starts with twenty gamers (aka Omeganauts) and over the three day event narrows the field down to a one-on-one final round. The Omegathon started with a simple game of Jenga, then the survivors of that battle moved on to Calling All Cars!, Quake III, Rock Band and then Puzzle Quest. All this led to the ultimate climax, a competition between the two best Omeganauts on a mystery game. In the past the mystery game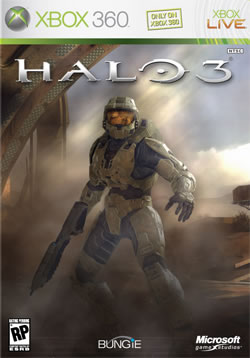 has been something old and easily recognizable, including a one-on-one battle over Pong, Atari's COMBAT and Tengen Tetris for the Nintendo Entertainment System. The winner of this competition would score some pretty amazing prizes, such as an all-expense paid trip to the Tokyo Game Show (along with some spending money).
But this year was a little different. This year the Penny Arcade Expo organizers decided that the final round shouldn't revolve around a classic video game, but rather should deal with an upcoming game that everybody's dying to play. This year's final round was essentially an hour-long commercial for Halo 3. For one thing, this was the first time the packed theater had seen these two Halo levels, so Microsoft was definitely doing a good job of getting everybody excited about this hotly anticipated game. Furthermore, the audience went crazy over the new weapons and items found spread out around the level; it was to the point where even non-Halo fans were excited about running out to the store and buying the game next month. But the real kicker came right before the two contestants sat down and battled it out. To introduce the mystery game, Tycho and Gabe allowed a brief video to do all of the talking. It was a minute-long Halo 3 advertisement followed by a band rocking out to the Halo theme song. After going to both PAX and E3 I'm starting to grow tired of watching bands covering Halo music, but maybe that's just me. Either way, the whole thing was created to build up hype for Microsoft's biggest game of 2007. But while this makes for a good show (and advertisement), part of me is a little disappointed that the Omegathon was used as a promotion tool. Regardless of which one of the contestants actually won, the real winner was actually Microsoft. I can only hope that future Omegathon competitions are not hijacked by these major companies trying to promote their big games.
Midway's Newest Game Might As Well Have Been Tony Hawk Presents Stranglehold

While Halo 3, Mass Effect and Rock Band were the biggest games of this year's PAX, there's no denying that a lot of the show goers are excited about Midway's upcoming action game, John Woo Presents Stranglehold. With its destructible environment, non-stop action and amazing graphics, Stranglehold may just prove to be the guilty pleasure of the year. But as excited as we are about this pseudo-sequel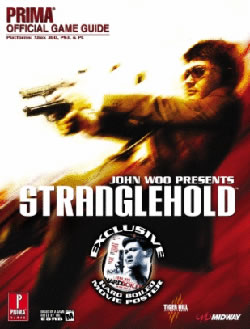 to Hard Boiled, none of us really expected to hear anything Earth shattering come out of the hour-long Making of Stranglehold panel. After all, there were only two people discussing the game and most of the hour was spent giving out cool schwag, answering questions about the multiplayer modes, and shooting people in the crotch (not necessarily in that order).
But just because most of the Midway Panel was spent talking about technical features in the game, there is one thing that did surprise me a little. Early in the hour panel Midway developer Steve Bowler started talking about the influences that led them to making John Woo Presents Stranglehold. I expected them to talk about games like Max Payne, Dead to Rights, or any one of the thousands of other third-person shooters currently on the market. But instead Steve said that one of the biggest influences was ... Tony Hawk's Pro Skater? That's right, it was Tony Hawk, specifically how you can link tricks together for a higher score (and more impressive combinations). Seeing the game in action (and having played the game at both E3 and my office) this makes complete sense; I'm actually a little surprised that I hadn't noticed the Tony Hawk's Pro Skater influence earlier. I wonder if EA's upcoming Tony Hawk competitor, Skate, will be the overriding influence for John Woo Presents Stranglehold 2.
Unleash the Furry is NOT A Furry Website

While it may not look like it from the articles we post, but there is actually quite a bit of research that goes into each and every one of our articles. This is especially true when we're out of the office hitting up conventions and talking to game developers. One of the big appointments we had at PAX this year was with Gamecock, a company we spent a lot of time at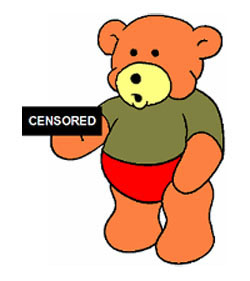 while down at E3 this year. The entire Defunct Games crew was excited about checking out their upcoming PVP MMO, Fury, and getting all of our post-E3 questions answered.
It was while doing my research and checking out their website that I discovered something very, very troubling, something I knew I had to ask the good people at Auran. You see, the official website for Fury is called
unleashthefury.com
, it's a good looking site with videos, screenshots, information, updates forums, and everything else you could possibly want relating to Fury. But if you accidentally put an extra "R" on the name Fury you get an entirely different website, a certain
unleashthefurry.com
, which is something altogether different ... and a little disturbing. Apparently this Unleash the Furry website features cute little furry characters assaulting your ears with insults and other rude comments. Seeing as only one letter separates these two websites I figured that it was my job to see what Auran thought of this. So I ask, and then we ended up talking for a good long time about furry culture, how some of the past Defunct Games articles have ticked off furry community, and how disturbing it is to see people like that choosing that kind of lifestyle and thrusting it on the rest of us (and our children). But really, if you're talking about furries (and, more specifically, Grand Theft Auto fan fiction where all of the characters are played by furries) then you might as well just stop the interview ... because there's no coming back from that.
Uwe Boll is Brave, Jack Thompson Not So Much

Who knew that PAX would be the convention that separated the cowardly from the brave? I figured this year's event would be a news-free zone, a place where tens of thousands of gamers showed up but no real announcements were made. Thankfully I was wrong, because with PAX brought news from two of our least favorite people. Up first is Jack Thompson, who was signed up to "debate" ECA founder, Hal Halpin. Given the recent game rating debacles (namely, Manhunt 2 receiving an AO rating before finally getting the M) I actually thought that Jack Thompson might show up for this debate. Despite constantly mischaracterizing the video game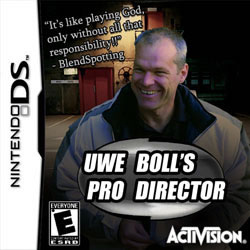 industry, Jack Thompson is not the kind of guy who backs down from a fight ... this is the guy who took the T-Rated PlayStation 2 game Bully to court, after all. But Jack was a no-show, he decided that it wasn't in his best interest to walk into the lion's den and battle thousands of angry video game fans. To be fair, he wouldn't have received a warm welcome and I'm not entirely sure how productive the exchange would have been. Can work really get done over non-stop booing?
But while Jack Thompson may be scared of us gamers, reviled "film" director Uwe Boll actually did show up. While nobody is going to argue that he changed the hearts and minds of the gamers in attendance, he did have the guts to actually show up and take questions from the angry mob. Obviously Uwe was in full defend mode, he has a new movie coming out (Postal) and wants to take some of the heat off of the early negative press. Whether or not he managed to do that is inconsequential, Uwe's goal was to show that he wasn't afraid of bad criticism and embraced the angry crowd. I'm not sure if everything he said is completely accurate (at one point he suggested that House of the Dead grossed $80 million worldwide), but I do give him credit for showing up. This is a lesson for Jack Thompson; even if everybody hates you it's still a good idea to have the balls to stand up for what you believe in front of a video game crowd.