There's nothing unusual about a video game company boasting about good reviews; we see that every day. But sometimes they can take it too far. That is the case with this bizarre new Dead Space 3 advertisement from Electronic Arts. Join us as we fact check this questionable claim from the publishing powerhouse.
"Get the Game That's Best of 2013 on 30 Lists" -Electronic Arts
Reality:
That's the email I received at 4:31 pm on February 8, 2013. It's the kind of junk mail I get from time to time, perhaps because I registered one of Electronic Arts' products or just looked at them funny. I should probably go through the hassle of unsubscribing, but I usually just push delete and vow to resolve the problem another time. That's exactly what I was going to do with this Dead Space 3 promotion, but then I took a second look.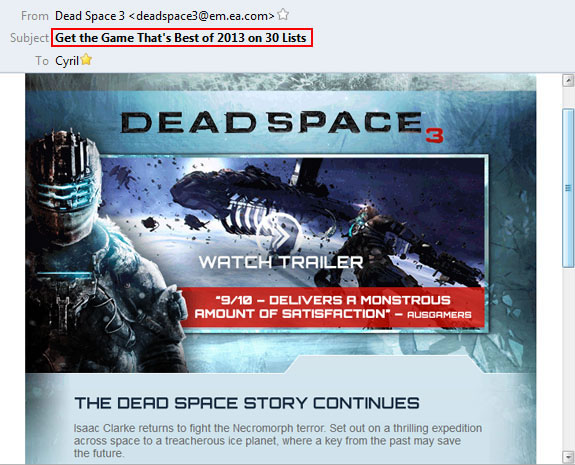 And there it was, right in front of my face: "Get the Game That's Best of 2013 on 30 Lists." Best of 2013 ... already? We're only seven weeks into this year, how is it possible that 30 different critics have named Dead Space 3 the "best" of 2013?
As you might have guessed, the statement isn't backed up by any facts. The advertisement lists a bunch of positive reviews, but there's no mention of even one "Best of 2013" list. And for good reason, because that's the last thing on the minds of game critics. With Grand Theft Auto V,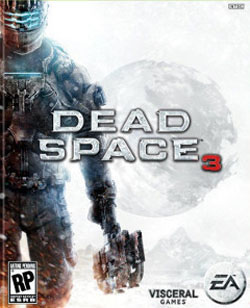 BioShock Infinite, The Last of Us and a whole slew of unannounced games (and systems), it would be ridiculous to name Dead Space 3 the best of 2013.
But wait, I have more bad news for Electronic Arts. Averaging 78% on MetaCritic, Dead Space 3 isn't even the best reviewed game of the first seven weeks. Currently, both Devil May Cry (86%) and Fire Emblem: Awakening (91%) are scoring higher than the action-oriented third chapter in the Dead Space trilogy. And let's not forget that most games released in January and February are forgotten come awards season.
It's possible that EA meant that Dead Space 3 is listed on 30 different "Most Anticipated Games of 2013" lists. That's a much more plausible scenario. But even if that's the case, I'm here to say that "Most Anticipated" is not synonymous with "Best Of." Don't let EA's marketing department trick you into thinking that 2014 is just around the corner; we still have a lot of games to play.