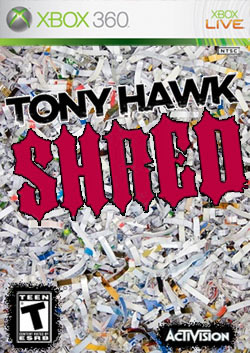 If Tony Hawk SHRED proves to be successful, Activision may try and spin it off into its own line of Guitar Hero games!
This week Tony Hawk got himself stuck in a no-win situation. Don't let his youthful, innocent look fool you, the Hawkman announced something he shouldn't have and is paying the consequences. Earlier this week the star of more than a dozen skateboarding games Tweeted the name of his newest game, the sequel to the much-maligned Tony Hawk Ride. Dubbed Tony Hawk SHRED, this new game promises to make up for past mistakes and finally get the long-running Tony Hawk franchise back on track.
Given the outright disaster last year's model was, extreme sports fans the world over are anxious to hear more about Tony Hawk SHRED. Will this game be as linear as the last? Will there be a fake plastic skateboard and will it feel more responsive? Will it be developed by somebody who has actually owned a skateboard before? These are all important questions, but none of them are being answered by the black suits at Activision ... until now.
Thanks to a number of unnamed sources working closely Activision, Defunct Games was able to get the dirt on Tony Hawk SHRED. While none of the Defunct Games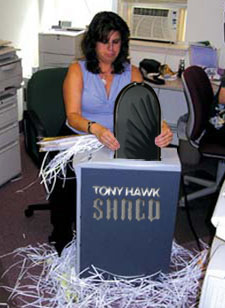 With such a large accessory, Tony Hawk SHRED could top $300!
staffers have had a chance to play this hotly anticipated apology, we have managed to get our hands on the box art, prototype peripheral and even a screenshot of the game's ending. In this preview we hope to update you on everything you need to know about Tony Hawk SHRED long before the game is officially unveiled at this year's E3.
The first thing you need to know about Tony Hawk SHRED is that Activision is very, very sorry. We're told that each box will contain a handwritten apology from not only Tony Hawk, but everybody who worked at Robomodo (the developers of the first game). On top of the apology, the game will also feature a check written out to "CASH" in the amount of $119.99 (the retail price of the first game). We're told that Activision hopes that this will make up for the release of last year's least necessary video game.
There are a lot more changes coming to Tony Hawk SHRED, including a brand new peripheral. Activision apparently learned their lesson the first time around, opting this time around for a far more useful peripheral. Gone is the fake plastic skateboard. In Tony Hawk SHRED lucky gamers will have a chance to purchase a full-size, working shredder. We're told that not only will shredder be used to destroy the instruction manual and packaging, but it will also be used to, get this, destroy your Tony Hawk Ride skateboard.
"Activision has spent the better part of the year researching the viability of an industrial shredding machine," claims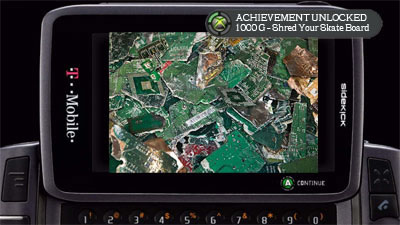 Tony Hawk SHRED's kill screen!
my sources at Activision. "The idea is to get everybody to literally shred Tony Hawk Ride off the face of the planet. This is a company who will do whatever it takes to make people forget that Tony Hawk Ride ever happened."
Apparently the shredder will be plugged into the Xbox 360 and PlayStation 3 using the UBS slots, though we're hearing that by the time of release Activision may have opted for a wireless model. The game gives you a series of challenges, each involving you shredding a different part of the game. You start with the box and disc, moving on to the instruction manual and then eventually the full-size skateboard. Once you've managed to shred every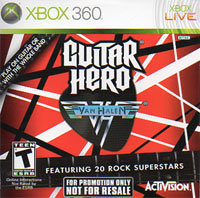 Oh who am I kidding, NOBODY owns Guitar Hero: Van Halen!
last inch of the skateboard the game will reward you with a game over screen and a full 1,000 achievement points.
Best of all, after you're done shredding every part of Tony Hawk Ride, you have increase your score by shredding other disappointing Activision titles. We're hearing (though this is unconfirmed at press time) that you may get extra points for games like Transformers: Revenge of the Fallen, Barbie and the Three Musketeers, Guitar Hero: Van Halen and Pimp My Ride. We're hoping that these points will be easily tracked on the online leader boards.
Unfortunately there are a few mysteries left for Activision to reveal. For one thing we don't know the price range. We are also unsure if this game will support online shredding. Also up in the air is a Wii version. Even without knowing all of the facts, it looks like Activision has another winner on their hands. If Tony Hawk SHRED plays as good as it sounds, then look for this game to take control of the holiday season.