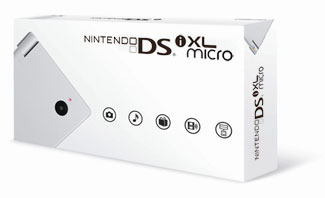 All You Need Is Cash ... to pick up Koanmi's surprising Rock Revolution sequel! (See Full Size Cover!)
Forget the Vancouver 2010 Olympics, because this week it was Nintendo making all of the news. Earlier this week the video game giant treated journalists to a number of incredible video game demos at the Nintendo World Summit. This San Francisco event was the first time Nintendo had publically demoed The Other M, their Team Ninja-developed Metroid reboot. Also on hand was Super Mario Galaxy 2, Monster Hunter Tri, Prince of Persia and much, much more. But the big news from this event went virtually unnoticed. It wasn't a game or Wii accessory. Instead it was the Nintendo DSi XL Micro, the fifth iteration of the popular Nintendo DS line of handheld video game systems.
The Nintendo DSi XL Micro is exactly what it sounds like, a smaller remodel of the upcoming Nintendo DSi XL. Measuring in at 74.9 mm tall x 137 mm broad x 18.9-mm wide (when closed), the DSi XL Micro is exactly the
Here we see two models demonstrating the differences between the Nintendo DSi and the DSi XL Micro!
same size as the Nintendo DSi. It also weighs the same, which makes this Nintendo's most light and compact version of the DSi XL. Best of all, the DSi XL Micro comes equipped with a camera, memory card slot and all the bells and whistles that have made the DSi XL so sought after.
The good news is that Nintendo plans to fully support their DSi XL Micro, noting that all 930 titles were fully compatible with this brand new game system. Unfortunately, Nintendo may be too optimistic in their claims. After making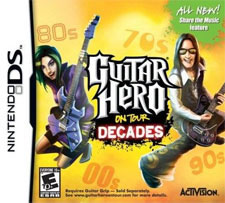 On second thought, you're probably better off without Guitar Hero On Tour!
a few calls, Activision confirmed to Defunct Games that they would not be supporting the new system with their Guitar Hero On Tour line of games. One has to wonder if there are other games that will not be fully compatible with this new DS, something that people will definitely want to know before dropping the cash for this smaller DSi XL.
Speaking of price, Nintendo announced that this brand new system would retail for $189.99, the same price as the Nintendo DSi XL. Although Big N refused to give a yes or no answer, it certainly feels like the company is trying to push the older Nintendo DSi off of store shelves. "Nobody is going to argue that the Nintendo DSi has been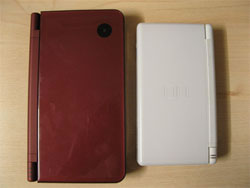 A side by side look at the difference between the DSi XL and the DSi XL Micro!
an overwhelming success," one of the Nintendo spokes people said to me. "Ever since its release 10 months ago, the DSi has been the number one handheld on the market. We're very excited to watch the DSi XL and the DSi XL Micro continue to dominate this extremely competitive market."
What is unknown is how the general game consumer will take to this risky strategy. Will the average handheld game player be ready for a smaller, more compact version of the DSi XL? Will people warm up to a handheld that can actually fit in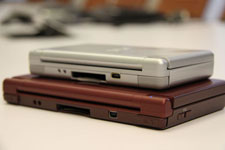 The Nintendo DSi XL Micro is a fantastic paperweight!
your back pocket? All that is known is that the millions of Nintendo loyalists are sure to line-up at midnight just to get their hands on the hottest new game system since the DSi XL. Everything that Nintendo touches turns to gold, do we have any reason to believe that this will be different?
What I can report is that the new handheld feels almost exactly like the Nintendo DSi, right down to the screen size and weight. It's remarkable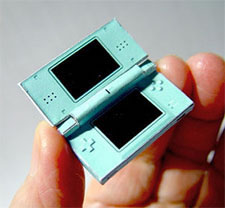 Run (don't walk) to GameStop and pre-order your own copy of the Nintendo DSi XL Micro Lite!
how Nintendo was able to cram all of the power of the DSi XL into something the size of a DSi. Best of all, it's going to come in a variety of different colors, from pink to black to green to blue. I even hear that third party companies are already lining up to release accessories, including carrying cases and protective screens.
Unfortunately, Nintendo may have accidentally stepped on their own announcement. During a questions and answers session, a Nintendo spokesman suggested that if the Micro is successful they may expand with an even smaller version of the console. Many were left to wonder if Nintendo was planning a sixth iteration of the DS. Does this mean that we can expect the Nintendo DSi XL Micro Lite to show up sometime next year? I guess it will all depend on the sales of this new handheld. The entire industry is excited to see how this new handheld does, because many believe the Nintendo DSi XL Micro could be a real game changer.