Long before Capcom had even considered "VS" titles, Namco and NEC were buddie buddie. Many early 16 Bit games started on NEC's Turbo Grafx 16 system, only later to appear on the Genesis. And Namco has always been a comapy to want to do what other companies are doing (see the Namco Vs. Sega article). So we bring you: NEC VS. NAMCO!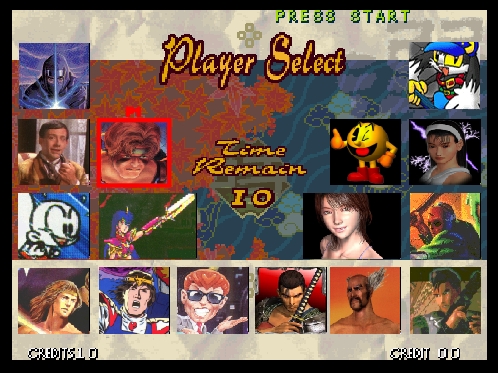 ON THE NEC SIDE: We have TONS of great fighters to work with. Including the Ninja from Ninja Spirits, Sherlock Holmes (from his Consultive Detective games), and Guy Kazama (from Last Alert). But did I mention that guy from Legendary Axe and the girl from Valis! And how can you forget J.J. (from J.J. and Jeff), Keith Courage (from Keith Courage in Alpha Zone), AND OF COURSE BONK (from a bunch of Bonk games)?
BUT ON THE NAMCO SIDE: There is an arsenal of quality fighters ... including Rick (from Splatterhouse), Heishiro Mitsurugi (from Soul Calibur), and Jun Kazama and Heihachi Mishima (both from Tekken). Plus some not so good fighters, but still assets to the team, like the gun man in Time Crisis and the girl at the beginning of all those Ridge Racer games. And then there's Pac Man and Klonoa ... which can distract the other team!
With these two teams going at it, it's in doubt what could be in store for NEC VS NAMCO 2!