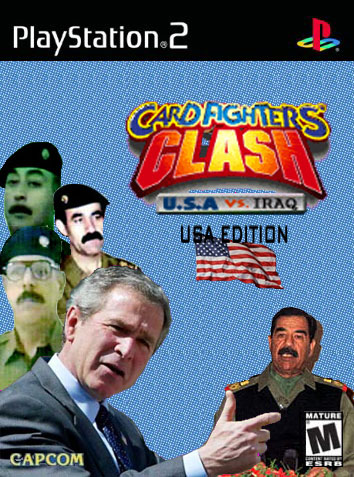 Who knew when the U.S. Government issued soldiers in Iraq a card game made up the 55 Most Wanted Iraqis, it would come to this? Building on the popularity of SNK vs. Capcom: Card Fighters Clash, and Card Fighters Clash Expanded Edition, Capcom is ready to unleash the console version of USA vs. Iraq: Card Fighters Clash.
Now PlayStation 2 owners can get their hands on the hard hitting card battling action that can only be found in war times. USA vs. Iraq features 55 cards in each set, each with their own special abilities and cute graphics. A Chemical Ali card, for example, would be good to add to a Soldier card so that your side can fight the allied forces with nerve gas and other terrible weapons.
But don't fear, in this US Edition of Card Fighters Clash you can put Colin Powel, Donald Rumsfeld, Tommy Franks, ex-POW Kelly Lynch,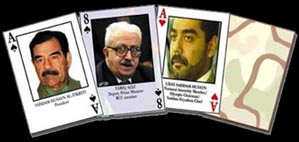 and 51 other cards. On the Iraq side you can take control of Jamal Mustafa Abdallah Sultan al-Tikriti, Hikmat Mizhan Ibrahim al-Azzawi, Tariq Aziz, and even Uday and Qusay Hussein.
You can earn the cards in one-player, or trade with friends to catch them all. Each of the two editions will offer a super secret card that will be extremely difficult to find. The U.S. edition will feature President George W. Bush, whereas the Iraq version will offer Saddam Hussein. Both versions will be available in several languages, and supports two players.
Hopefully we'll have more word on this game, and possible Xbox and GameCube ports at this years E3.