Every video game character dies; it's just a fact of life. But some deaths are more spectacular than others. This is Rest in Pixels, the only show on the internet willing to shine a light on some of video gaming's biggest deaths. So put down the tissues and wipe away the tears from your face, because we're here to celebrate the many different ways game characters die.
NEW EPISODES TUESDAYS & THURSDAYS!
Ghouls 'N Ghosts (Genesis)
Known for its punishing difficulty, Ghouls 'N Ghosts still haunts the nightmares of old school gamers. But beyond its reputation, this 16-bit stunner was considered the first must-own game for the Sega Genesis. The arcade port even won Electronic Gaming Monthly's coveted Game of the Year award. But this isn't a story about Ghouls 'N Ghosts' accomplishments, because today we're looking at the darker side. This is how Sir Arthur dies.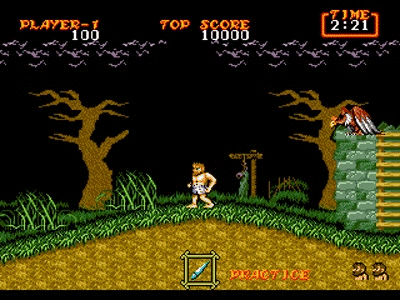 Who Died?
Sir Arthur, a heroic knight and
bad date planner
.
What Happened?
Having already defeated Satan twice, Sir Arthur must have felt invincible. There he was spending a relaxing evening in the graveyard, when all of a sudden he's attacked by curiously-dressed skeletons. The first strike destroyed the armor, exposing Sir Arthur's embarrassing underwear. After running to a nearby hill, the once-brave knight found himself surrounded by undead monsters. All it took was one final swing of the skeleton's scythe to turn Sir Arthur into a pile of bones. The townspeople were thankful that Sir Arthur had conveniently died in cemetery with plenty of empty coffins lying around.