Every video game character dies; it's just a fact of life. But some deaths are more spectacular than others. This is Rest in Pixels, the only show on the internet willing to shine a light on some of video gaming's biggest deaths. So put down the tissues and wipe away the tears from your face, because we're here to celebrate the many different ways game characters die.
NEW EPISODES TUESDAYS & THURSDAYS!
For a few years in the 1980s, Karnov was the mascot for Data East. He not only starred in his own video game, but also made appearances in a number of well-known arcade hits. But did you know that Karnov's death was an athletic angle? Could this be the most spectacular death yet? This is how Karnov dies.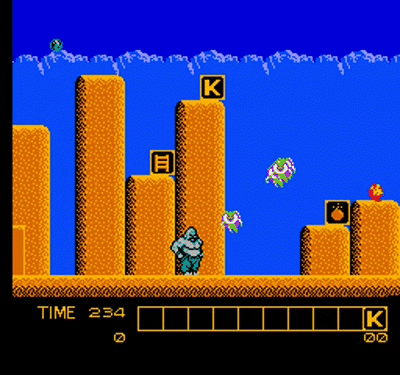 Who Died?
Jinborov Karnovski, a Soviet strongman who has been known to punch dinosaurs and other
Bad Dudes
.
What Happened?
It should have been a peaceful vacation, but a simple trip through the desert turned deadly for Jinborov Karnovski. After running away from the monsters, the strongman was struck down by a flying demon. Always the entertainer, Karnov's final act was to perform a flying jump kick and land on his back; just as he had done years earlier in Cairo. It's a shame nobody was around to see him finally pull off the acrobatic stunt he had worked so hard to perfect. His body would be found later by a family with two small children and a dog. There was never any sign of monsters or flying demons.