Every video game character dies; it's just a fact of life. But some deaths are more spectacular than others. This is Rest in Pixels, the only show on the internet willing to shine a light on some of video gaming's biggest deaths. So put down the tissues and wipe away the tears from your face, because we're here to celebrate the many different ways game characters die.
NEW EPISODES TUESDAYS & THURSDAYS!
After years of writing letters, Capcom finally listened and published a brand new Strider game. And while I'm a big fan of the reboot (
as you can tell from my review
), I still have some lingering questions about the original arcade classic. Most of them have to do with Hiryu's mysterious death. Let's see if we can figure it all out. This is how Strider dies.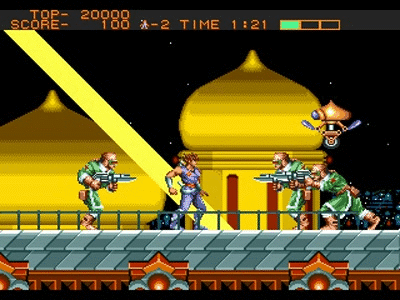 Who Died?
Strider Hiryu, a high-tech ninja tasked with assassinating a religious/political figure.
What Happened?
Soon after touching down in the Kazakh Soviet Socialist Republic, Strider Hiryu was killed when a guard was able to sneak up from behind with a bayonet. Even after years of training to become a high-tech ninja, Hiryu was defeated by his one weakness -- being overpowered by three soldiers. Much to everybody's surprise, Strider's body exploded into a ball of light; shooting straight through his assassin, cutting the man in half. In death, Hiryu was able to do what he couldn't in life. It's almost poetic.