Every video game character dies; it's just a fact of life. But some deaths are more spectacular than others. This is Rest in Pixels, the only show on the internet willing to shine a light on some of video gaming's biggest deaths. So put down the tissues and wipe away the tears from your face, because we're here to celebrate the many different ways game characters die.
NEW EPISODES TUESDAYS & THURSDAYS!
Zombies Ate My Neighbors (Super NES)
Long before video games ran zombie fiction into the ground, there was Zombies Ate My Neighbors on the Super NES and Sega Genesis. This 16-bit action game featured dozens of stages and all sorts of gruesome ghoulies. It starred a couple of kids on a mission to solve a zombie outbreak. But don't get too attached to the stars, because it wouldn't be horror without at least one dead teenager. This is how Zeke dies in Zombies Ate My Neighbors.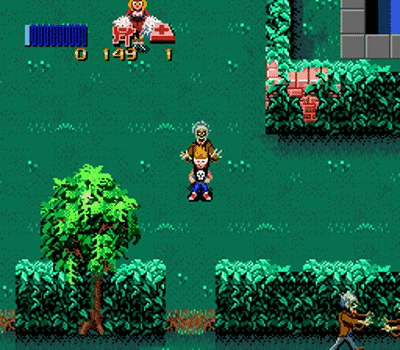 Who Died?
Zeke, a fan of horror movies and guy who thinks 3D glasses are fashionable. (They aren't.)
What Happened?
Initially, local police officers were reluctant to investigate the scene of Zeke's death. Not only were they swamped with similar 9-1-1 calls, but they were concerned about the zombie outbreak. Thankfully, it only took the observant officers a few days to realize that the zombies weren't eating brains. Although there were rumors of neighbors being eaten, survivors discovered that the zombies were simply walking around and looking creepy. In the case of Zeke, it appears the undead walker merely crept up behind the teenager and scared the boy to death. The coroner ruled that Zeke could have been saved had the police acted sooner. To this day nobody has been disciplined for this tragedy.