Every video game character dies; it's just a fact of life. But some deaths are more spectacular than others. This is Rest in Pixels, the only show on the internet willing to shine a light on some of video gaming's biggest deaths. So put down the tissues and wipe away the tears from your face, because we're here to celebrate the many different ways game characters die.
NEW EPISODES TUESDAYS & THURSDAYS!
Inspired by Namco's popular Rolling Thunder arcade series, Capcom takes a stab at the War on Drugs with Code Name: Viper for the 8-bit Nintendo Entertainment System. While a blatant rip-off of a four year old game, I always had a soft spot for the man code named Viper. Was it the exciting South American forests, the straight-forward story or the star's super-human ability to jump? No, it was the way he died. This is how Kenny Smith dies in Code Name: Viper.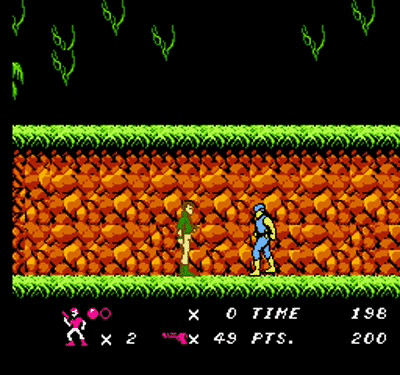 Who Died?
Kenny Smith, Special Forces operative on a mission to stop a drug syndicate in South America (and not the director of Clerks and Dogma).
What Happened?
"I didn't even see him there," admits a guard shaken up by the sudden death of Kenny Smith. "I was lost in thought as I was doing my rounds, and then all of a sudden I walk right into the guy." What should have been a simple misunderstanding turned deadly when the Special Forces operative fell to the ground. "It was the darnedest thing, he stuck his butt in the air and his head hit ground. It was almost like he was praying." The guard quickly radioed for a medic, but it was too late. "I remember bouncing back from the force, the whole thing happened so fast. Next time I'll pay more attention when making my rounds."