Every video game character dies; it's just a fact of life. But some deaths are more spectacular than others. This is Rest in Pixels, the only show on the internet willing to shine a light on some of video gaming's biggest deaths. So put down the tissues and wipe away the tears from your face, because we're here to celebrate the many different ways game characters die.
NEW EPISODES TUESDAYS & THURSDAYS!
Released just as 3D fighting games were starting to gain traction,
Ballz
is a quirky 16-bit game where brawlers are made up of, well, balls. It looks cool and all, but Ballz is difficult to play and didn't catch on like Virtua Fighter and Tekken. Despite its problems, Balls does have a pretty spectacular death sequence. This is what happens when Kronk dies.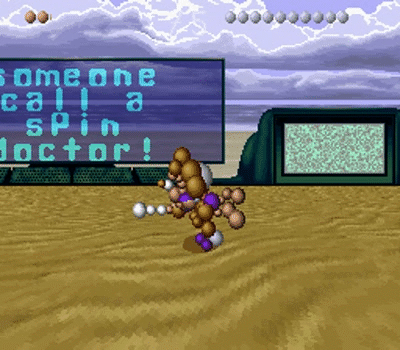 Who Died?
Kronk, a club-carrying caveman with no backstory or interesting personality trait.
What Happened?
In most fighting games, the losing player finds himself bloodied, bruised and knocked out. Developer PF Magic went a more interesting route, featuring characters that literally exploded into dozens of bouncing balls. In this case, it's Crusher looking to destroy an ill-tempered caveman. Just as it looks like Crusher is going to throw the Neanderthal, Kronk slips away and falls on his head. The impact kills him, scattering parts of the caveman throughout the arena. Crusher barely realized what happened.