Every video game character dies; it's just a fact of life. But some deaths are more spectacular than others. This is Rest in Pixels, the only show on the internet willing to shine a light on some of video gaming's biggest deaths. So put down the tissues and wipe away the tears from your face, because we're here to celebrate the many different ways game characters die.
NEW EPISODES TUESDAYS & THURSDAYS!
Look, up there in the sky, is it a bird, is it a plane, is it ... oh, it's just a plane. Actually, it's the Red Baron and Blue Max, the stars of Sky Kid. After a successful run in the arcades, Namco brought this colorful shooter home to the Nintendo Entertainment System. But look out, because fighting World War I can be hazardous to your health. Find out why this Rest in Pixels episodes is surprisingly realistic. This is how the Red Baron des.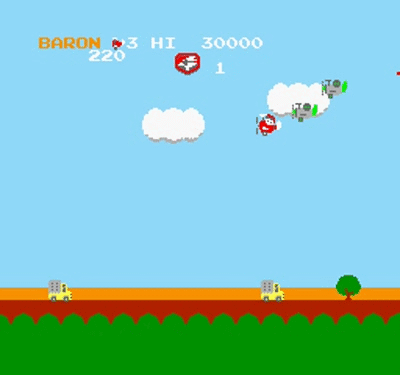 Who Died?
The Red Baron, who is so young and inexperienced in this game that he doesn't realize he's supposed to be flying the other direction.
What Happened?
In this world of men
exploding
and
superheroes bursting into flames
, it's rare we see a realistic death. But that's exactly what sets Sky Kid apart from the other games we've chronicled on Rest in Pixels. Instead of exploding into a million pieces or doing something crazy, the Red Baron slowly spirals towards the ground when he gets killed. Spectators were impressed by the realism, but saddened by the death of the famous pilot. On a side note, video game airplane manufacturers learned a lot about building safer crafts, which resulted in us never seeing another crash quite like the one in Sky Kid.