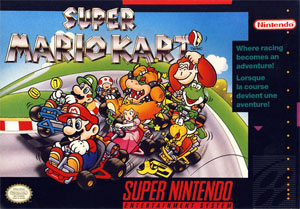 Super Mario Kart (Super NES)
every Monday, Wednesday and Friday
as Defunct Games presents Review Crew!
You can't go wrong with Super Mario Kart. No matter what console it's on, a good time is guaranteed when you're throwing turtle shells and racing on rainbow roads. But that wasn't a given back in 1992. Did critics instantly fall in love with Mario Kart, or were they more interested in a sequel to F-Zero? We dig through old issues of Electronic Gaming Monthly, GamePro, Super Play, Game Players, Nintendo Magazine System, N-Force and Nintendo Power for the answers.
(NOTE: Although we occasionally cut for length, no other edits are made to the review. Defunct Games does not change any of the wording, grammar or punctuation use. Also keep in mind that our score is the average of all critics at the time, not just the sample that is reprinted on this page. If you still have more questions, I recommend you check out the
Review Crew FAQ
, where we address the review guidelines, converting scores, magazine covers and more.)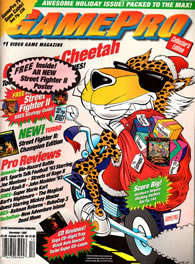 GAMEPRO (December 1992)
5 out of 5
"Maybe you were wondering just how many ways Nintendo could squeeze a good time out of the Mario world. Here's one that's a winner. Super Mario Kart makes wheel-spinning, bumper-grinding, motor racing actually cute! The little guys definitely have a lot of drive." -Bro. Buzz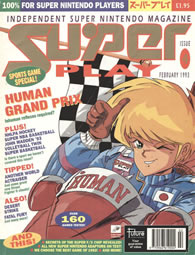 SUPER PLAY #4
94% out of 100%
"One of the top three games on the Super Nintendo. Everything about it is absolutely spot on. At its heart is the ultimate driving game, combining stunning 3D graphics, cunningly designed and highly varied courses, a perfect 'driving feel', masses of depth, plenty of long-term challenge, lots of funny bits and, of course, Mario and chums." -Jonathan Davies.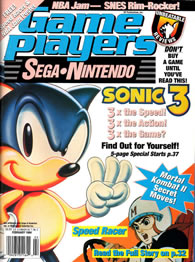 GAME PLAYERS (February 1994)
94% out of 100%
"Take on the computer or a friend in racing circuits that take you through Mario Land. For the ultimate in head-to-head, two-player, split-screen action, race a friend in the Battle mode. A must for SNES owners."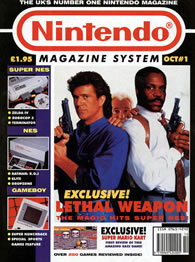 NINTENDO MAGAZINE SYSTEM #1
92% out of 100%
"When it comes to the crunch, I have to say that whether or not Super Mario Kart is worth buying is totally down to you. If you've always got a second player around this is an utterly, utterly essential purchase. If you're likely to be playing it one your own, though, I don't think there's enough in it for a solo player to justify the price tag, and I'd opt for F-Zero or Exhaust Heat instead." -Jaz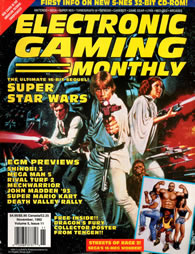 ELECTRONIC GAMING MONTHLY #40
9 out of 10
"This is the best driving game to come along for some time. Mario Kart may look like an F-Zero clone on the surface, but there are many interesting upgrades ranging from power-ups to special combat modes using a split-screen layout. Replay options and plenty of tracks add to the appeal of this super game!" -Steve Harris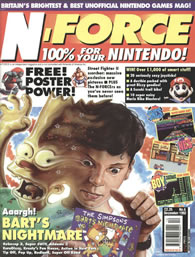 N-FORCE #6
88% out of 100%
"I just love anything Marioesque so I almost wet myself when Super Mario Kart arrived at the N-FORCE tree house! It's absolutely fantastic fun - frustrating too! As Chris said, this isn't much fun to play on your own -- pity he hasn't got many friends! With a few mats the game bursts into life and you get so involved you could actually be there! I don't care how much it costs, this is a game you shouldn't be without." -Nick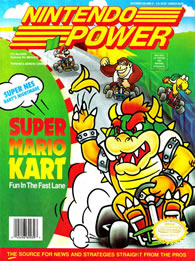 NINTENDO POWER #41
4.4 out of 5
"Holy smokin' tires! Kart mania is spreading and has invaded the realm of Super Mario World. Eight familiar Nintendo characters compete for the highly coveted Kart cups. Donkey Kong, Jr. long missing from video game action, returns as one of your Kart racers choices. The racing action is very similar to that of F-Zero, as is the "behind-the-driver" point of view. As with all Mario games, Super Mario Kart is a whole lot of fun!"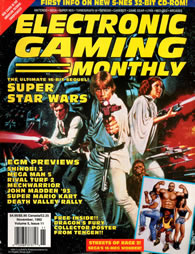 ELECTRONIC GAMING MONTHLY #40
8 out of 10
"A cute, but very good follow-up to F-Zero. This game may look cutesy, but don't be fooled! It really gets intense. The game play is very good and loaded with neat features like instant replay. The graphics and music are high quality and utilize Mode 7 very well. The game is a ton of fun and even better in two-player mode." -Martin Alessi

REVIEW CREW AVERAGE: 89% -
We may think of Super Mario Kart as an unstoppable franchise that will sell on every Nintendo platform, but that certainly wasn't the case in 1992. In fact, multiple critics felt the need to point out Mario Kart's similarity to another Nintendo racing game. "Mario Kart may look like an
F-Zero
clone on the surface," cautions Steve Harris of Electronic Gaming Monthly. Even Nintendo Power agreed, noting that their new racing game uses F-Zero's "behind the driver point of view."
This first Mario Kart was largely praised by the critics for its world-class two-player support, great level designs and fun battle modes. However, the magazines above found a few things to complain about. Even critics who gave the game high scores noted that it loses some of its charm as a single-player experience. Nintendo Magazine System didn't think there was enough solo content to justify the price tag, but did recommend F-Zero and Exhaust Heat.
While most critics enjoyed the game, it wasn't immediately clear that it would become the juggernaut we know today. Super Mario Kart averaged a strong 89% from the Review Crew critics, which is a bit higher than
F-Zero (86%)
and slightly lower than
Super Mario World (92%)
.
HOW DOES IT COMPARE TO MARIO KART 8?
Super Mario Kart's 89% average compares favorably when it comes to Mario Kart 8. According to MetaCritic,
the Wii U exclusive average an impressive 88%
. Super Mario Kart also bested
Mario Kart 7 (85%)
,
Mario Kart Wii (82%)
,
Mario Kart: Double Dash!! (87%)
and
Mario Kart 64
. The only two installments this SNES game didn't top was
Super Mario Super Circuit (93%)
and
Super Mario DS (91%)
. In other words, the original Super Mario Kart is the third best reviewed game in the series.
SUPER MARIO ARCHIVE:
Want to see how this Super Mario game stacks up against the rest? Below you will find every Mario game currently in the Review Crew archive. Read the original reviews and see if you agree with the old school critics.
ON FRIDAY'S EPISODE:
We're taking a detour from the usual road to look at a racing game that isn't like any other racing games on the market. It's Road Avenger, the oddball full-motion video experience for the Sega CD. Were critics still on board with FMV in 1993 or does this game come in last place? Find out on Friday when Review Crew catches up with Road Avenger. Make sure and check out the
Review Crew archive
for more old school reviews, and don't forget to tweet me
@DefunctGames
to let me know what games you want to see next!
Brand New Episodes Every Monday, Wednesday and Friday!