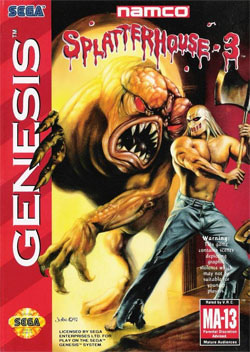 Splatterhouse 3 (Sega Genesis)
Ever wonder what Electronic Gaming Monthly, GamePro and other popular magazines thought of your favorite 8-, 16- and 32-bit games? Now you can find out, thanks to
Review Crew
! This is the only show on the internet that is willing to go back in time to find out what old school critics thought of retro games at the time. Did they pan your favorite game? Did they love something terrible? Find out
every Monday, Wednesday and Friday
as Defunct Games presents Review Crew!
Rick is back for one last 16-bit adventure. Today the Review Crew will be taking a look at Splatterhouse 3 for the Sega Genesis, the final chapter in the side-scrolling saga. Did the ghouls and ghosts haunting Rick make this the best installment yet, or were critics sick of this franchise? We dig through old issues of Electronic Gaming Monthly, GamePro, Die Hard Game Fan and Mean Machines Sega for the answers.
(NOTE: Although we occasionally cut for length, no other edits are made to the reviews. Defunct Games does not change any of the wording, grammar or punctuation use. Keep in mind that our score is the average of all critics at the time, not just the sample that is reprinted on this page. For more details and answers to common questions, we encourage you to read the Review Crew FAQ. There you'll find information on review guidelines, how we convert scores, magazine covers and more.)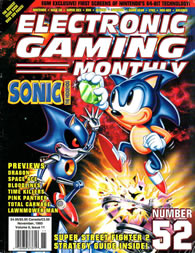 ELECTRONIC GAMING MONTHLY #52
9 out of 10
"This is a guilty pleasure! The control is near perfect and the ability to become a muscle-bound destroyer is an excellent option! Things are VERY violent here, and at times, extremely disturbing! But, this game delivers!" -Major Mike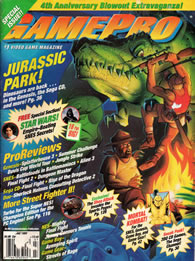 GAMEPRO (July 1993)
4.5 out of 5
"Splatterhouse 2 was a hack 'n' slash hit last year. Naturally, Namco's following up its success with a sequel, Splatterhouse 3. It rarely gets bloodier than this -- and that's one reason why this sequel will be so popular. Splatterhouse 3's got a high 'gross out' factor and lots of not-so-clean fun. Just like any good horror movie, there are enough thrills and chills here to keep you riveted to your seat. This game is good to the last splat." -Sister Sinister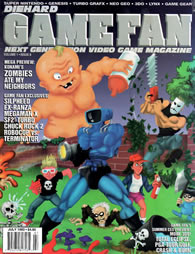 DIE HARD GAME FAN (July 1993)
89% out of 100%
"Jason's back! SH3 is Namco's grossest game on any home system since SH2. The graphics are much better than 3 and the levels are longer and harder and the music has to be heard to be believed. If you own a Genesis this is the last SH that Namco will ever make so check it out." -The Enquirer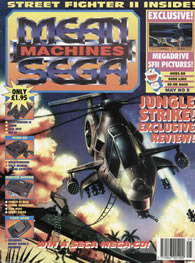 MEAN MACHINES SEGA #8
77% out of 100%
"I love the Splatter House coin-op, and with this Megadrive sequel appearing on a massive 16-meg game cartridge I was expecting Splatter House III to be a huge game packed with horror, gore and variety. Imagine my disappointment when I found it's not that huge, isn't particularly horrible or gory, and variety is distinctly lacking. It's rather like a crap Streets of Rage II. Bah!" -Jazz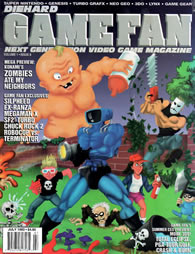 DIE HARD GAME FAN (July 1993)
77% out of 100%
"Definitely the best version yet! Splatterhouse 3 stays true to the original with some of the best gore a game has offered. The action is the same, but you have new weapons and moves to use. Other great features are the long levels and monstrous power up attacks. Nice job Namco." -Tom Slick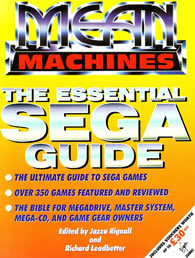 MEAN MACHINES SEGA
(The Essential Sega Guide)
74% out of 100%
"If you expected Splatter House III to be a huge game placked with horror, gore and variety you will be disappointed. It's not that huge, isn't particularly horrible or gory, and variety is distinctly lacking. Much of the gameplay boils down to simply wandering from room to room encountering the same baddies over and over again. After a while it becomes dull. Bah!" -Jaz

REVIEW CREW AVERAGE: 81% -
Did GamePro just plagiarize itself?
In her review of Splatterhouse 2
, Abby Normal said the Genesis sequel was "good to the last splat." One year later, Sister Sinister says "this game is good to the last splat." Seriously, could GamePro not come up with another coffee slogan? Just off the top of my head I came up with these: "Fill it to the rim with splat," "the best part of waking up is splat," and "tastes as good as it splats."
Joke recycling aside, Splatterhouse 3 turns out to be the best reviewed installment yet. It seems Namco finally tightened up the controls and created a game that lived up to the promise of the name. Some complained that the sequel was still too short, but that's certainly true to the series' roots.
Despite having stronger reviews, this game received less coverage than its predecessors. For example, Electronic Gaming Monthly had five editors score Splatterhouse 3 (all but Mike giving it an 8 out of 10), but only one written review. It felt like everybody was ready to move away from not only this series, but brawlers in general. Even with less coverage, this sequel managed to average an impressive 81%, up from the
original Splatterhouse
and
Splatterhouse 2
, which averaged 79% and 74% respectively.
ON THE NEXT REVIEW CREW:
We're only one week away from Halloween, which means it's time to kick this month of scary games into high gear. Get ready for only the scariest games next week, including The Uninvited for the Nintendo Entertainment System. Come back on Monday to see what old school game magazines said about this point and click graphic adventure. Make sure and check out the
Review Crew archive
for more old school reviews, and don't forget to tweet me
@DefunctGames
to let me know what games you want to see next!
Brand New Episodes Every Monday, Wednesday and Friday!