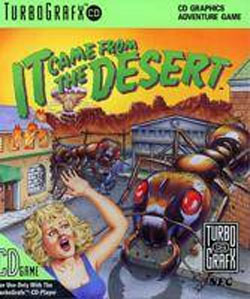 It Came From the Desert (TurboGrafx-CD)
Ever wonder what Electronic Gaming Monthly, GamePro and other popular magazines thought of your favorite 8-, 16- and 32-bit games? Now you can find out, thanks to
Review Crew
! This is the only show on the internet that is willing to go back in time to find out what old school critics thought of retro games at the time. Did they pan your favorite game? Did they love something terrible? Find out
every Monday, Wednesday and Friday
as Defunct Games presents Review Crew!
We continue our month-long journey through spooky 8- and 16-bit games with It Came From the Desert, a full-motion video action game for the TurboGrafx-CD. By mixing B-rate horror with mindless shooting sections, some felt this was the future of gaming. Did Turbo Play, Electronic Gaming Monthly, Game Informer and GamePro agree? Find out on this bug-infested episode of Review Crew.
(NOTE: Although we occasionally cut for length, no other edits are made to the reviews. Defunct Games does not change any of the wording, grammar or punctuation use. Keep in mind that our score is the average of all critics at the time, not just the sample that is reprinted on this page. For more details and answers to common questions, we encourage you to read the Review Crew FAQ. There you'll find information on review guidelines, how we convert scores, magazine covers and more.)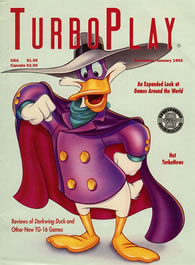 TURBO PLAY #10
9 out of 10
"This is an amazing game. Not only does it have a title song comparable to anything on the radio, but the remainder of the music throughout the entire game is great also. On the graphics side, this is as close to the cutting edge technology as you're going to get; full-motion video running at ten frames a second. The bottom line is: Those of you who have the TurboGrafx-CD will love this game. Those of you who don't might want to think about getting one."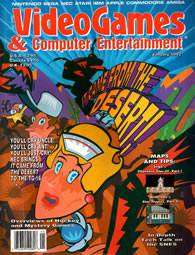 VIDEO GAMES & COMPUTER
ENTERTAINMENT (January 1992)
9 out of 10
"You play the main character, Buzz Lincoln. After a truck carrying nuclear waste turns over and loses its cargo, you're sent out to reactivate the radiation sensors. What Buzz finds in the desert is Doc's worst nightmare: giant ants the size of Buicks -- and the ants have a plan. After hearing so much about the game (and waiting and waiting), I can safely say it was worth the wait." -Donn Nauert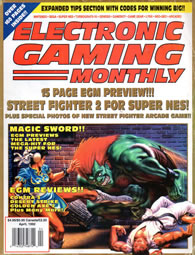 ELECTRONIC GAMING MONTHLY #33
8 out of 10
"These are the types of games that the Turbo needs to get it going again. Unfortunately it took years to make this one. Great branching of the plot and a decent merging of action sequences with the fill-in digitized animation keep this quest game moving along nicely. A good advancement over the Sherlock CD." -Ed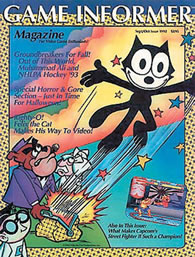 GAME INFORMER (September 1992)
7.5 out of 10
"This game tries to follow the old low-budget horror movie with you, our hero, leading the way. The game plays more like an interactive TV show than a video game. This is an innovative and exciting game, but with no real action. If you're looking for a change of pace, or like watching old "B" movies, It Came From the Desert has a lot to offer." -Andy, The Game Dandy
GAMEPRO (June 1992)
4 out of 5
"The arcade areas quickly become repetitive, and only the difficulty factor varies from one scene to the next. Also, outwitting the Queen Ant isn't a brain-strainer and replaying the struggle isn't too thrilling. Additionally, the live actor graphics are painted with a rather limited color palette. Average action sequences aside, Turbo Technologies latest wins accolades for its stylish, cinematic package. It Came From the Desert is guaranteed to make you bug-eyed!" -Monty Haul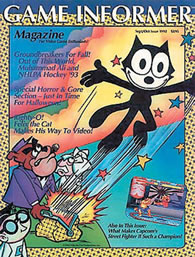 GAME INFORMER (September 1992)
6.75 out of 10
"I believe this game was made as a showpiece for the TurboGrafx CD. Real voices! Real music! Compared to what's currently available, the graphics are the best I've seen. I was intrigued by this game, especially by the storyline and the real-life graphics and voices. Unfortunately, the action scenes were lacking in variety. It has a lot of 'bugs' to work out." -Rick, The Video Ranger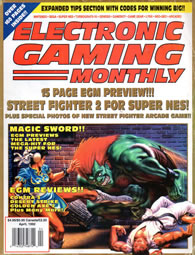 ELECTRONIC GAMING MONTHLY #33
4 out of 10
"This is a sad case of a great idea blended with poor execution. The game play consists of little more than choosing menus and cheesy side scrolling and overhead shooting scenes. The cinemas are choppy yet still have some cool features. The game play is nonexistent. NOT fun to play. Since when do bikes have radios?" -Martin

REVIEW CREW AVERAGE: 70% -
Critics were mixed when it came to It Came From the Desert. Despite what many believed to be next-generation full-motion graphics, most of the reviews focused on the disappointing gameplay and repetitive action sequences. Electronic Gaming Monthly called the side-scrolling and overhead shooting sections "cheesy," and Game Informer complained that the game had too many bugs to work out.
On the other hand, some critics were impressed with what this game had to offer. Turbo Play (a magazine devoted entirely to hyping TurboGrafx products) suggested that gamers should buy the CD add-on just for this game. Video Games & Computer Entertainment's Donn Nauert agreed, telling his readers that it was worth the multi-year wait. But they were the outlier, as most critics seemed disappointed with this ambitious action game. With scores ranging from 40% all the way up to 90%, It Came From the Desert averaged a middling 70%.
ON THE NEXT REVIEW CREW:
Wednesday brings yet another spooky episode of Review Crew. In most games the goal is to stay alive, but that's not the case for Chakan: The Forever Man. Come back later in the week to see if Sega Force, Mega, Electronic Gaming Monthly and Mean Machines loved this unusual Sega Genesis action game. Make sure and check out the
Review Crew archive
for more old school reviews, and don't forget to tweet me
@DefunctGames
to let me know what games you want to see next!
Brand New Episodes Every Monday, Wednesday and Friday!