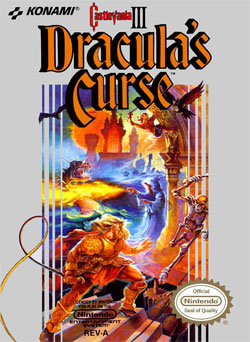 Castlevania III: Dracula's Curse (Sega Genesis)
Ever wonder what Electronic Gaming Monthly, GamePro and other popular magazines thought of your favorite 8-, 16- and 32-bit games? Now you can find out, thanks to
Review Crew
! This is the only show on the internet that is willing to go back in time to find out what old school critics thought of retro games at the time. Did they pan your favorite game? Did they love something terrible? Find out
every Monday, Wednesday and Friday
as Defunct Games presents Review Crew!
We continue our month-long look at classic horror games with a week of Castlevania. Today we're tackling Castlevania III: Dracula's Curse, the Belmont clan's third and final 8-bit adventure. This was the game that made critics realize that this spooky series was worth taking seriously. What did critics say about Castlevania III: Dracula's Curse in 1990? We dig through old issues of GamePro, Electronic Gaming Monthly, Nintendo Power and N-Force for the answers.
(NOTE: Although we occasionally cut for length, no other edits are made to the reviews. Defunct Games does not change any of the wording, grammar or punctuation use. Keep in mind that our score is the average of all critics at the time, not just the sample that is reprinted on this page. For more details and answers to common questions, we encourage you to read the Review Crew FAQ. There you'll find information on review guidelines, how we convert scores, magazine covers and more.)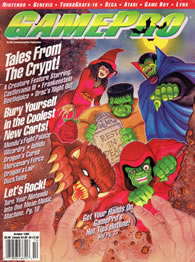 GAMEPRO (October 1990)
5 out of 5
"Konami has done an exemplary job of combining the best elements of Castlevania I and II with new ingredients to make this an extremely familiar yet exciting new game. Castlevania fans will love the new chapter of the monster saga. The numerous levels, detailed graphics, and challenging gameplay make this a mouth-watering video game delight! Sink your teeth into Castlevania III, before Count Dracula sinks his into you!" -Gideon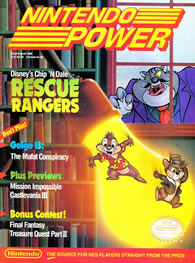 NINTENDO POWER #14
4.8 out of 5
"Konami is bringing one of the greatest NES adventure settings back to the NES this fall in Castlevania III: Dracula's Curse. Set 100 years before Simon's Quest, an ancestor of Simon Belmont has been summoned to foil the Count's plans in the 15th century. Although it resembles the original Castlevania at first glance, Dracula's Curse has better graphics, sound and best of all -- a huge new world full of hair-raising creatures to explore!"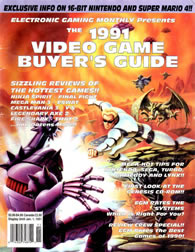 ELECTRONIC GAMING MONTHLY #15
9 out of 10
"Castlevania may be an old concept, but in Dracula's Curse Konami has proven that they can still make it work. The new cast of characters widens the options and the graphics are some of the best NES has (or will) ever see!" -Steve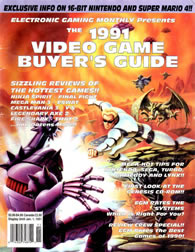 ELECTRONIC GAMING MONTHLY #15
8 out of 10
"Castlevania 3 is a pretty good game from start to finish. The graphics and music are top-notch and the quest is still entertaining after parts one and two. While it may be familiar, part three is still very, very good." -Ed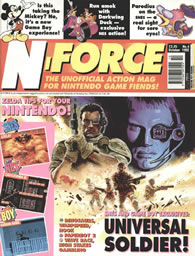 N-FORCE #4
89% out of 100%
"Crack that whip cos it's Castlevania time again. Being the great fan of the series I was really surprised to find this is the best yet! Not only are the graphics, sound and animation better, but the gameplay and scenario have to be seen to be believed. If you only buy one Castlevania game buy this one cos it's a knobbler." -Gunns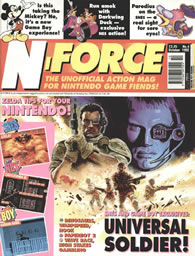 N-FORCE #4
70% out of 100%
"The Castlevania series has been highly successful on the NES and this episode looks set to follow suit. There are so many different paths to follow that the game could be played differently each time. Castlevania III - Dracula's Curse is the best Castlevania game on the market. Take a look at this, even if you already own I or II!" -Shades

REVIEW CREW AVERAGE: 88% -
After a quarter century of battling Dracula, gamers of all ages know what to expect from a Castlevania game. This wasn't the case in 1990, as critics were coming off of two radically different adventures starring Simon Belmont. Worse yet, neither game connected with the critics. The Game Machine gave the original NES classic a so-so 71%, while Simon's Quest earned a miserable 55%. It's easy to why some critics were skeptical of the Belmont's final 8-bit outing.
Thankfully, everybody loved Castlevania III: Dracula's Curse. While the usual suspects gushed over it (GamePro called it a "mouth-watering video game delight"), this Konami action game also picked up support from Nintendo Power in a big way. After reviewing 488 games for the Nintendo Entertainment System, Castlevania III is Nintendo Power's highest ranked game with a 4.8 out of 5. Add in 16-bit games and this sequel is the second highest scoring game of all time, below only Zelda III: A Link to the Past. That's out of 1,503 games. Impressive.
N-Force wasn't nearly as sold on Trevor's quest. Although he liked the different paths and different gameplay, Shades decided to give Castlevania III a low score of 70%. This was nearly 20 points lower than follow critic Gunns, who scored the game an 89%. With all of the scores added up, Gunns was close to the average. Despite Shades' low score, Castlevania III averages an impressive 89%. It was at this moment that critics started to take the Castlevania series seriously.
CASTLEVANIA ARCHIVE:
Want to see how this Castlevania game stacks up against the rest? Below you will find every Castlevania game currently in the Review Crew archive. Read the original reviews and see if you agree with the old school critics.
ON THE NEXT REVIEW CREW:
Castlevania makes the leap from 8- to 16-bit in Wednesday's episode of Review Crew. No, I'm not talking about
Super Castlevania IV
, we covered that months ago. The same goes for
Castlevania Bloodlines
. With those out of the way, we're with Dracula X on the Super NES. Hey, don't give me that sad face. You'll come back here on Wednesday and you'll like it! Make sure and check out the
Review Crew archive
for more old school reviews, and don't forget to tweet me
@DefunctGames
to let me know what games you want to see next!
Brand New Episodes Every Monday, Wednesday and Friday!