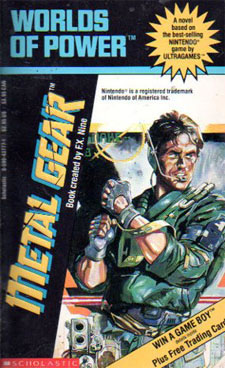 Solid Snake and the Hot, Hot Heat!
PREVIOUSLY ON: Justin Halley is on a mission to break into Outer Heaven and rescue the Snake Men. What he doesn't know is that he was supposed to fail, acting as a distraction while the full team saves the day. Things did not go as planned. So far Solid Snake has managed to infiltrate Outer Heaven, scare off a pack of wild dogs, survive a spiked death room, rescue the survivors and locate the head of the kidnapped Snake Men. Not bad for a one-man suicide mission. But now he's been located, disarmed and thrown into a cell. Will Snake be able to escape his scary confines? Will he locate the missing doctor? Find out today when you listen to another exciting episode of Cyril Reads Metal Gear!

Talk about a tease; just as Solid Snake gathers up a large arsenal, he's caught and hauled off to jail. This episode picks up right after the daring escape. He's stashed Grey Fox away and found a way out of the jail cell. Will he finally learn what the Metal Gear is? Where are his guns? And what were those heat panels Chuck was rambling on about? Some of these questions will be answered as we read Metal Gear chapters 10 and 11!

NOTE: What you are about to listen to is Cyril Lachel actually reading the real book, Metal Gear. Released in 1990 by Scholastic Publishing, Metal Gear is a lighthearted (and generally non-violent) action story that is all of 122 pages long. We have not altered Alexander Frost's original book in any way, this really is what they released for $2.95 twenty years ago!



Episode 6 - Metal Gear (Chapter 10 & 11)
00:00 - Previously on Metal Gear
01:02 - Chapter 10: The Shotgunner
08:21 - Game Hint #1
08:34 - Chapter 11: The Heat Panels
17:36 - Game Hint #2
17:43 - Metal Gear Substance (Recap)

(Technical Information: CYRIL READS METAL GEAR - Episode 6 runs for 16:13
at a size of 14.3 mb zipped or 14.8 mb unzipped.)