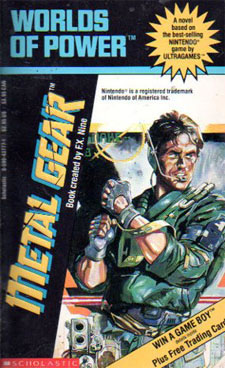 Solid Snake forgets that this is a sneaking mission!
PREVIOUSLY ON: Justin Halley is on a mission to break into Outer Heaven and rescue the Snake Men. What he doesn't know is that his commanders are lying to him, forcing him on a suicide mission as little more than a diversion for the real mission. Unfazed, Solid Snake has managed to annoy monkeys, scare off a pack of wild dogs and avoid being crushed in a spiked death room. Most importantly, he's found and rescued the Snake Men ... though he doesn't know who he can trust. Justin has just found a secret room full of weapons and ammo, making this the first time our hero has felt truly in control. Will Solid Snake go on a shooting spree and beat the Metal Gear once and for all? Find out now when we dig into chapters eight and nine of Cyril Reads Metal Gear!

After spending seven chapters collecting guns, missile launchers, grenades, mines and ammo, Solid Snake is about to go all First Blood on these terrorists. Or is he? It turns out that the author has a different story to tell. What will happen when Justin Halley has an emotional reunion with one of the top Snake Men? Find out now when you listen to this super-sized episode of Cyril Reads Metal Gear!

NOTE: What you are about to listen to is Cyril Lachel actually reading the real book, Metal Gear. Released in 1990 by Scholastic Publishing, Metal Gear is a lighthearted (and generally non-violent) action story that is all of 122 pages long. We have not altered Alexander Frost's original book in any way, this really is what they released for $2.95 twenty years ago!



Episode 5 - Metal Gear (Chapter 8 & 9)
00:00 - Previously on Metal Gear
01:02 - Chapter 8: Captured!
13:00 - Chapter 9: The Escape
19:35 - Metal Gear Substance (Recap)

(Technical Information: CYRIL READS METAL GEAR - Episode 5 runs for 22:08
at a size of 19.4 mb zipped or 20.2 mb unzipped.)