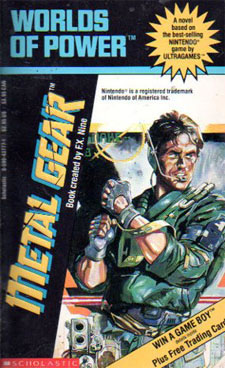 SNAAAAAAAAAAAAAAAAAAAKE!!
PREVIOUSLY ON: Justin Halley is on a mission to break into Outer Heaven and rescue the Snake Men. What he doesn't know is that his commanders are lying to him, forcing him on a suicide mission as little more than a diversion for the real mission. Unfazed, Solid Snake has managed to annoy monkeys, outsmart guards and scare off a pack of wild dogs. He made his way into Outer Heaven and found the remaining Snake Men. Unfortunately, he's also found a gas-filled room with a large spiked death trap. How will Snake get himself out of this predicament? Find out now when we delve into chapter seven of Cyril Reads Metal Gear!

We're a quarter of the way through this Metal Gear opus and just getting started. Tonight Snake has to contend with a death trap and come to grips with his own mortality. If you love sound effects, this week's episode is for you. With death traps, armed guards, computer games and more, there are plenty of instances for sound effects. Will this be Solid Snake's last chapter? Find out now when you listen to this bite-sized episode!

NOTE: What you are about to listen to is Cyril Lachel actually reading the real book, Metal Gear. Released in 1990 by Scholastic Publishing, Metal Gear is a lighthearted (and generally non-violent) action story that is all of 122 pages long. We have not altered Alexander Frost's original book in any way, this really is what they released for $2.95 twenty years ago!



Episode 4 - Metal Gear (Chapter 7)
00:00 - Previously on Metal Gear
01:02 - Chapter 7: A Terrorist's Face
08:21 - Game Hint #1
17:43 - Metal Gear Substance (Recap)

(Technical Information: CYRIL READS METAL GEAR - Episode 4 runs for 11:38
at a size of 10.2 mb zipped or 10.6 mb unzipped.)