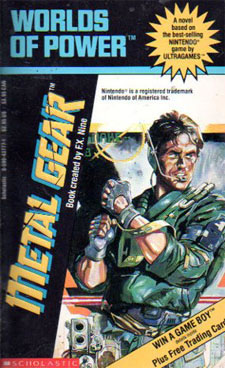 Solid Snake let the dogs out!
PREVIOUSLY ON: After losing half the team in a botched raid, Fox Hound only has a few options left. Commander South wants to send green soldier Justin Halley, also known as Solid Snake, behind enemy lines. The plan is to sneak in without any weapons or communication, save the surviving Snake Men, rescue Dr. Ivan Pettovich and kill Colonel CaTaffy. Unbeknownst to Solid Snake, the Commander is sending him on a suicide mission to act as a diversion to the real assault. Will this plan work? Can Justin Halley make it in without alerting any guards? Find out now as we open up a can of snake meat and listen to a new episode of Cyril Reads Metal Gear!

It's time for another exciting episode of Cyril Reads Metal Gear. This week Justin goes on his first mission, which involves him running into a few unpleasant surprises. You'll never believe what he does to get out of one tough situation! But remember, all this is leading to the reveal that Solid Snake is nothing more than a diversion tactic. He has been sent to die. What will happen when he finds out? I guess you'll just have to keep listening to find out!

NOTE: What you are about to listen to is Cyril Lachel actually reading the real book, Metal Gear. Released in 1990 by Scholastic Publishing, Metal Gear is a lighthearted (and generally non-violent) action story that is all of 122 pages long. We have not altered Alexander Frost's original book in any way, this really is what they released for $2.95 twenty years ago!



Episode 2 - Metal Gear (Chapter 3 & 4)
00:00 - Previously on Metal Gear
01:02 - Chapter 3: Getting In
08:50 - Chapter 4: Inside the Gates
19:03 - Metal Gear Substance (Recap)

(Technical Information: CYRIL READS METAL GEAR - Episode 2 runs for 21:32
at a size of 19.0 mb zipped or 19.7 mb unzipped.)