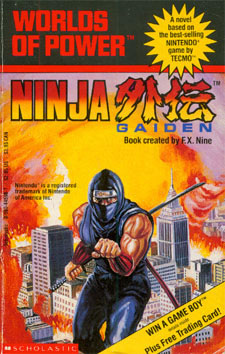 In this episode 13 year old Ryu goes into his first American bar ... how sweet!
PREVIOUSLY ON CYRIL READS NINJA GAIDEN: After finishing his ninja training, Ryu Hayabusa is given a letter from his long-lost father. What Ryu doesn't know is that thirteen years earlier his father and his trusty sidekick, Dr. Wimple, had stumbled upon a pair of rare artifacts. Unfortunately a demonic warrior stopped the two doctors right in their tracks, forcing Dr. Wimple to flee and killing Ryu's father. Will we learn what those ancient artifacts are for? Will Ryu begin his cross country adventure? Will Ryu's mom come to her senses and realize that she shouldn't let a 13 year old boy fly around the world killing people? Find out now when we continue our journey into Ninja Gaiden!

You've made it through three episodes already, but the best is yet to come! Believe or not, these two chapters represent some of the best action in the book. We get more ninja action, more answers and, best of all, more Dr. Wimple! And I have completely glossed over the toothpick fight. Better still, we get teenagers in bars and ninjas in America. If this isn't the best episode of Cyril Reads Ninja Gaiden then I don't know what is. And for what it's worth, this episode is a full 25 minutes long, definitely making up for the abbreviated chapters last week.

In case you have yet to listen to the first three episodes, I suggest you go back and do that now (I'll wait). To everybody else that is caught up I proudly offer you Cyril Reads Ninja Gaiden chapters seven and eight ...


Episode 4 - Ninja Gaiden (Chapters 7 + 8)
00:00 - Introduction/Previously On
01:05 - Chapter 7: The Search for Dr. Smith!
08:35 - Chapter 8: Dr. Smith, I Presume!
21:15 - An Open Letter to A.L. Singer!

(Technical Information: Cyril Reads Ninja Gaiden - Episode 4 runs for 25:33
at a size of 14.4 mb zipped or 14.6 mb unzipped.)