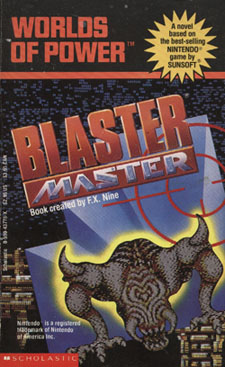 I guess this is what the Plutonium Boss looks like!
PREVIOUSLY ON CYRIL READS BLASTER MASTER: Previously on this season of Blaster Master we were introduced to Jason, a frog-loving kid who accidentally slid face first into a heap of trouble. Together he and Eve, an alien woman who inadvertently brought certain doom to the planet, had to fight their way to the dreaded Plutonium Boss. But when Eve was kidnapped Jason had to go it alone. Before long Jason came face to face with Alex, a friend from the above world that also had lost a pet. Now the two heroes have made their way to the final boss, the evil Plutonium Boss. Will this be the end of Jason and Alex? Will these two nobodies save the world from certain doom? And where the hell has Eve been? All these questions and more will be answered in today's episode of Cyril Reads Blaster Master!

It's the episode you all have been waiting for, the final battle against the evil Plutonium Boss. But maybe this Plutonium Boss isn't as evil as I've been making him out to be? Maybe he's just a misunderstood character who is secretly trying to save the human race. Jason, Alex and Eve, they are the aggressors. Besides mutating a bunch of frogs and lobsters, what has the Plutonium Boss done that was so wrong? And how is it that we're 22 chapters into this book and nobody has wrestled a shark?

In this episode we learn where Eve has been hanging out, what the Plutonium Boss looks like and what a planet killing machine would look like. Not necessarily in that order. It's an exciting episode that leads us right into the final two episodes of Cyril Reads Blaster Master. But let's not get too ahead of ourselves, it's time to get down to business and kill one ugly son of a Plutonium Boss. Find out what happens when you listen to the tenth episode of Cyril Reads Blaster Master!

NOTE: What you are about to listen to is Cyril Lachel actually reading the real book, Blaster Master. Released in 1991 by Scholastic Publishing, Blaster Master is a lighthearted (and generally non-violent) action story that is all of 120 pages long. We have not altered A.L. Singers' original book in any way, this really is what they released for $2.95 almost twenty years ago.)



Episode 10 - Blaster Master (Chapter 20 + 21)
00:00 - Introduction to Blaster Master
01:11 - Chapter 20: That Sucking Feeling
08:55 - Chapter 21: That Sucking Sound
12:51 - An Open Letter to A.L. Singer!

(Technical Information: CYRIL READS BLASTER MASTER - Episode 10 runs for 18:01
at a size of 12.0 mb zipped or 12.3 mb unzipped.)