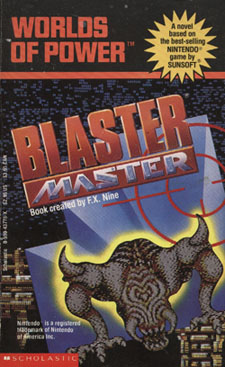 No frogs were harmed in the making of this podcast!
PREVIOUSLY ON CYRIL READS BLASTER MASTER: Previously on this season of Blaster Master we were introduced to Jason, a frog-loving kid who accidentally slid face first into a heap of trouble. Together he and Eve, an alien woman who inadvertently brought certain doom to the planet, had to fight their way to the dreaded Plutonium Boss. But when Eve was kidnapped Jason had to go it alone. Before long Jason came face to face with Alex, a friend from the above world that also had lost a pet. The two heroes are now at the end of their adventure, looking to take down the final underboss. There's only one problem, that final boss is Jason's pet frog. It's time once again for another exciting episode of Cyril Reads Blaster Master!

When we last left Jason and Alex, the two of them were about to be pummeled by a giant frog. But this isn't any giant frog, but rather Jason's pet frog! Will Jason get his emotions in check long enough to save the day and beat the final underboss? Of course he will, but what comes next is where the real fun is. As we get closer to the end it's not looking good for our heroes. It doesn't look like we'll ever get Fred back and who knows where Eve is. But the good news is that Sophia III is still in tip top condition (assuming you don't mind some spike marks on the roof). Perhaps some of these questions will be resolved when you listen to Blaster Master chapters 18 and 19!

NOTE: What you are about to listen to is Cyril Lachel actually reading the real book, Blaster Master. Released in 1991 by Scholastic Publishing, Blaster Master is a lighthearted (and generally non-violent) action story that is all of 120 pages long. We have not altered A.L. Singers' original book in any way, this really is what they released for $2.95 almost twenty years ago.)



Episode 9 - Blaster Master (Chapter 18 + 19)
00:00 - Introduction to Blaster Master
01:11 - Chapter 18: Jason vs. Fred
08:55 - Chapter 19: Jason vs. Time & Space
12:51 - An Open Letter to A.L. Singer!

(Technical Information: CYRIL READS BLASTER MASTER - Episode 9 runs for 16:41
at a size of 11.3 mb zipped or 11.4 mb unzipped.)