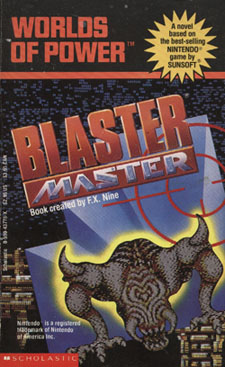 There are no angry mobs in this episode of Blaster Master!
PREVIOUSLY ON CYRIL READS BLASTER MASTER: Meet Jason. Recently he lost his pet frog. Jason chased after Fred, the frog, and discovered a creepy old swamp. Before long he decided to jump down a huge hole because maybe, just maybe that's where his frog went. That's right, he jumped down a huge hole. But it's a good thing he did, because he met an alien girl named Eve who was on Earth collecting samples. Unfortunately Eve inadvertently brought an evil group of plutonium monsters with her. Thankfully Jason and Eve have a space car, SOPHIA 3rd. Will this odd couple be able to defeat the evil monsters and save the world? Find out on another exciting episode of Cyril Reads Blaster Master!

I'll admit, last week was a short episode. In fact, last week may have been the shortest Cyril Reads episode in our three season history. But don't fear, not every episode is going to be like that. In Cyril Reads Blaster Master episode 8 we more than double the pages for one of the most exciting half hours we've produced yet. In this chapter we make room for a brand new friend and discover what the super secret seventh underboss is. I bet if you've been paying attention you can figure it out (no really, you probably already have figured it out).

With this episode in the history books, that means that we only have a few more chapters left. What will A.L. Singer do to keep this book exciting? Will he kill one of the main characters? Will the big boss man come back with some more poetry? Will it be Fred that ultimately saves the day? Will anybody above ground feel any of these explosions? Find out as we finish off the summer in style with the conclusion of Cyril Reads Blaster Master. But until then, let's check out chapters 16 and 17!

NOTE: What you are about to listen to is Cyril Lachel actually reading the real book, Blaster Master. Released in 1991 by Scholastic Publishing, Blaster Master is a lighthearted (and generally non-violent) action story that is all of 120 pages long. We have not altered A.L. Singers' original book in any way, this really is what they released for $2.95 almost twenty years ago.)



Episode 8 - Blaster Master (Chapter 16 + 17)
00:00 - Introduction to Blaster Master
01:11 - Chapter 16: In With the New
10:14 - Chapter 17: Out With the Old
21:12 - An Open Letter to A.L. Singer!

(Technical Information: CYRIL READS BLASTER MASTER - Episode 8 runs for 25:21
at a size of 17.2 mb zipped or 17.4 mb unzipped.)