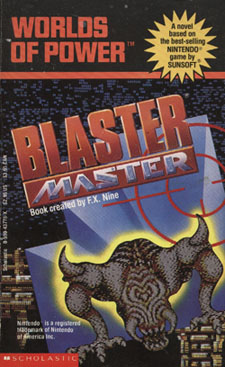 A Blast Master episode Sunsoft can be proud of!
PREVIOUSLY ON CYRIL READS BLASTER MASTER: Meet Jason. Recently he lost his pet frog. Jason chased after Fred, the frog, and discovered a creepy old swamp. Before long he decided to jump down a huge hole because maybe, just maybe that's where his frog went. That's right, he jumped down a huge hole. But it's a good thing he did, because he met an alien girl named Eve who was on Earth collecting samples. Unfortunately Eve inadvertently brought an evil group of plutonium monsters with her. Thankfully Jason and Eve have a space car, SOPHIA 3rd. Will this odd couple be able to defeat the evil monsters and save the world? Find out on another exciting episode of Cyril Reads Blaster Master!

Can you believe it, next week marks the official halfway point. We're almost done with this terrible book. I can just dream about all of the game novels we can hit next, like Castlevania II, Metal Gear and Before Shadowgate. But let's not get too far ahead of ourselves just yet. We still have half a book to go, who knows what kind of crazy cliffhangers A.L. Singer can throw at us. Actually we do. Knowing him, all of the cliffhangers will have our hero falling to his death.

So this is the newest episode of Cyril Reads Blaster Master. And I can tell you right now, it doesn't suck. I know that most of these chapters have been a little dull, but not this one. It's full of action and excitement. And best of all, at no point does Eve "accidentally" get a popular phrase wrong. Oh gawd that's annoying! Anyway, you've listened to me complain enough. It's time to check out chapters 10 and 11 in Blaster Master!

NOTE: What you are about to listen to is Cyril Lachel actually reading the real book, Blaster Master. Released in 1991 by Scholastic Publishing, Blaster Master is a lighthearted (and generally non-violent) action story that is all of 120 pages long. We have not altered A.L. Singers' original book in any way, this really is what they released for $2.95 almost twenty years ago.)



Episode 5 - Blaster Master (Chapter 10 + 11)
00:00 - Introduction to Blaster Master
01:11 - Chapter 10: Meet the New Boss!
06:00 - Chapter 11: Same as the Old Boss!
13:47 - An Open Letter to A.L. Singer!

(Technical Information: CYRIL READS BLASTER MASTER - Episode 5 runs for 17:16
at a size of 11.7 mb zipped or 11.8 mb unzipped.)