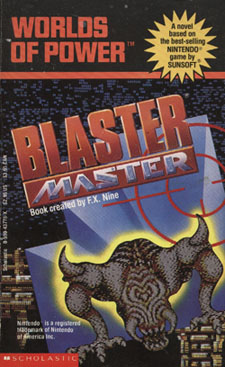 Blaster Master is NOT the cure to the common cold!
PREVIOUSLY ON CYRIL READS BLASTER MASTER: Meet Jason. Recently he lost his pet frog. Jason chased after Fred, the frog, and discovered a creepy old swamp. Before long he decided to jump down a huge hole because maybe, just maybe that's where his frog went. That's right, he jumped down a huge hole. But it's a good thing he did, because he met an alien girl named Eve who was on Earth collecting samples. Unfortunately Eve inadvertently brought an evil group of plutonium monsters with her. Thankfully Jason and Eve have a space car, SOPHIA 3rd. Will this odd couple be able to defeat the evil monsters and save the world? Find out on another exciting episode of Cyril Reads Blaster Master!

First and apology. For the first time in Cyril Reads history, we missed an airdate. As you may already know, we generally post this podcast on Wednesdays. However, due to a nasty illness I picked up, I was unable to meet the July 1 air date. One week later I was feeling better, but my voice was still giving me problems. Try as I might, I just couldn't read the book and make it enjoyable. Today is Friday and my voice isn't 100%, but I was able to create a compelling fourth episode of Cyril Reads Blaster Master.

This is an exciting episode because it's the first time Jason gets out of SOPHIA 3rd. All this time he's been stuck with Eve in her space car, but now he is finally on his own. What kind of mischief will he get himself into? Will he ever find Fred? Why isn't he getting radiation poisoning from all of the nuclear waste he's supposedly fighting in? Some of these questions may be answered when you listen to Cyril Reads Blaster Master episode 4!

NOTE: What you are about to listen to is Cyril Lachel actually reading the real book, Blaster Master. Released in 1991 by Scholastic Publishing, Blaster Master is a lighthearted (and generally non-violent) action story that is all of 120 pages long. We have not altered A.L. Singers' original book in any way, this really is what they released for $2.95 almost twenty years ago.)



Episode 4 - Blaster Master (Chapter 8 + 9)
00:00 - Introduction to Blaster Master
04:50 - Chapter 8: Get Out of the Car!
08:00 - Chapter 9: Get Back in the Car!
12:00 - An Open Letter to A.L. Singer!

(Technical Information: CYRIL READS BLASTER MASTER - Episode 4 runs for 19:46
at a size of 13.4 mb zipped or 13.5 mb unzipped.)