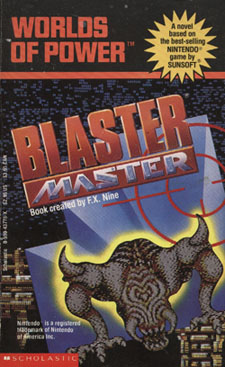 I promise, the book can only get better from here!
PREVIOUSLY ON CYRIL READS BLASTER MASTER: Jason is on a quest to be reunited with his pet frog. After making a series of loud noises, Fred the Frog jumped out of his cage and took our hero on a journey to an old swamp near his house. Unfortunately nothing was what it seemed and Jason jumped into a large pit and was introduced to a mysterious gun-toting stranger. Together Jason and his new friend, Eve, are in the middle of a large scale battle with a series of crazy robots. And to make matters worse, Eve has decided to drive our hero off a cliff into a lake of molten lava. Will Eve and Jason be able to escape certain death? Will Jason find his pet frog? Will any of this make sense? Find out when we dig a little deeper into Cyril Reads Blaster Master!

After five chapters, it's officially time to get some answers. In this very special episode of Cyril Reads Blaster Master we learn why Eve is here on earth and who all of these bad guys are. We also learn who that jump suit belonged to before Jason. But be warned, this is a slow and plodding episode. There's very little action and the focus seems to be entirely on back story. Couple that with a few technical problems with the recording and some may say this is the worst episode of Cyril Reads yet. I would tend to agree. But I still say it's worth checking out; we're only going up from here!

NOTE: What you are about to listen to is Cyril Lachel actually reading the real book, Blaster Master. Released in 1991 by Scholastic Publishing, Blaster Master is a lighthearted (and generally non-violent) action story that is all of 120 pages long. We have not altered A.L. Singers' original book in any way, this really is what they released for $2.95 almost twenty years ago.)



Episode 3 - Blaster Master (Chapter 6 + 7)
00:00 - Introduction to Blaster Master
04:50 - Chapter 6: Eve Explains All
08:00 - Chapter 7: The Fall Out
12:00 - An Open Letter to A.L. Singer!

(Technical Information: CYRIL READS BLASTER MASTER - Episode 3 runs for 22:16
at a size of 15.1 mb zipped or 15.2 mb unzipped.)