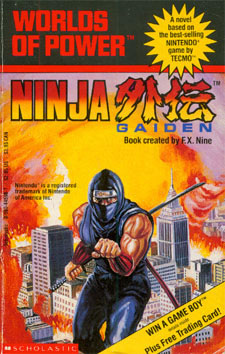 Don't expect a lot of Ryu action in this episode, chapters 3 and 4 are all about daddy!
PREVIOUSLY ON CYRIL READS NINJA GAIDEN: Last week we were introduced to our 13 year old hero, Ryu Hayabusa. After fighting off several intruders blindfolded, Ryu has proven himself a talented ninja who has finally made it to the highest level he could go. Excited, Ryu celebrates with his mother. But his mother has a secret; a mysterious letter written by Ryu's missing father. What does it say? How will Ryu react? Where is the sexual tension between Ryu and his mother coming from? Maybe these questions will be answered in our next exciting episode of Cyril Reads Ninja Gaiden!

So we've successfully survived the first episode of Cyril Reads Ninja Gaiden, hopefully you're ready for this second episode. This time around we are transported back in time to learn what happened to Ryu's father. The big difference in this episode is the length. While the story elements of last week's episode was no more than 15 minutes, this episode's story alone is around 23 minutes long. But don't worry, we're still going to offer an open letter to author A.L. Singer and have a good time reading chapters three and four of Ninja Gaiden.

In case you have yet to listen to last week's exciting debut, I suggest you go back and do that now (I'll wait). To everybody else that is caught up I proudly offer you Cyril Reads Ninja Gaiden chapters three and four ...


Episode 2 - Ninja Gaiden (Chapters 3 + 4)
00:00 - Introduction/Previously On
00:55 - Chapter 3: Two Doctors on the Prowl!
06:57 - Chapter 4: Ryu Fights!
21:00 - An Open Letter to A.L. Singer!

(Technical Information: Cyril Reads Ninja Gaiden - Episode 2 runs for 25:21
at a size of 14.4 mb zipped or 14.5 mb unzipped.)