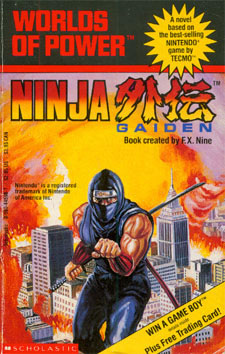 In this chapter we get "Dinosaur Measurement" ... no really, we do!
PREVIOUSLY ON CYRIL READS NINJA GAIDEN: We don't have a lot of time, so here's what you need to know. First Ryu gets a letter from his long-dead father. No wait, first Ryu turns 13 and becomes the highest level of ninja possible. Then he gets the letter, which sends him half-way around the world in order to figure out what happened to his dad. Then he's kicked off of a college campus. He gets in a fight with some big bully at a local bar, gets shot by a 13 year old girl, fights a car, gets drafted into the CIA, gets sent to Central America to battle some sort of evil, falls off a mine-cart, battles a bunch of bosses, sweats fire, falls down another big hole, gets that 13 year old girl kidnapped, accidentally loses two statues that, if put together, will spell the end of the world, and finds out his father may actually not be dead, but is a mutant mask-wielding killer brainwashed by the Jacquio. Or something like that. It's all so confusing. The truth is, if you're just now starting to listen to these episodes then you've missed way too much back story and you need to start from episode 1. Or at least episode 6. Hopefully you'll catch up and join us as we journey once more into the heart of Ninja Gaiden!

Look at you; you've managed to make it to the third to last episode of Cyril Reads Ninja Gaiden. I don't know if you want a prize or something, but you have to feel pretty good making it 20 chapters into this piece of pop culture trash. The good news is that we're almost done, which means that these two chapters are going to be REAL exciting. At least, they promise to be real exciting. You're just going to have to listen to find out what happens. Next week brings us the penultimate episode, so sit back and get ready for another exciting episode of Ninja Gaiden!

In case you have yet to listen to the first ten episodes, I suggest you go back and do that now (I'll wait). To everybody else that is caught up I proudly offer you Cyril Reads Ninja Gaiden chapters twenty-one and twenty-two ...


Episode 11 - Ninja Gaiden (Chapters 21 + 22)
00:00 - Introduction/Previously On
01:08 - Chapter 21: Ryu Continues to Fight!
05:30 - Chapter 22: No, Seriously, More Fighting!
10:57 - An Open Letter to A.L. Singer!

(Technical Information: Cyril Reads Ninja Gaiden - Episode 11 runs for 19:37
at a size of 11.1 mb zipped or 11.2 mb unzipped.)