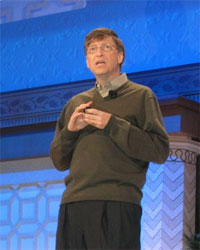 You know it's going to be a good time when Bill Gates shows up!
These days every website has a podcast, from GameSpot to IGN to 1up. But how many people actually have the time to listen to all of those podcasts? Well, Defunct Games does, and we're here to tell you what's good, what's bad and what's just plain ridiculous! We're here to comment on everything we disagree with, pull things out of context to make others look like fools and introduce you to the many wacky moments you would have otherwise missed. Believe it or not, this is the first episode we've had in more than half a year, the last time we checked in with The Hotspot, Games For Windows Radio and KOXM it was the middle of summer and everybody still thought Grand Theft Auto IV was a 2007 release. Oh how innocent we were back then.
This is our long awaited 9th episode of Somebody Else's Podcast and boy do we have a good show for you. In this very special episode we sent a guy to the Microsoft CES Keynote address, so we're piping in audio from that historic event. On top of listening to Bill Gates ramble on about how amazing Windows Vista is, we also check in with GameSpot's The Hotspot to see what kind of calls they are getting in the new year, we try and figure out why the Games For Windows crew loves Sonic so much and (yet again) have to correct the mistakes KOXM makes. When will these podcasts start to do some research? Regardless, this is an action-packed episode that is well worth your time. Just be warned, this episode was recorded before the writer's strike had concluded, so our first episode of 2008 is a little rough. But hey, when you're starving for a new episode you'll take whatever you can get, right?
Like what you hear?
Digg It
!
Episode 15 - Somebody Else's Podcast! Vol. 9
00:00:00 - Introduction to Radio Free Gaming
00:02:25 - Microsoft CES Keynote: Part 1!
00:03:30 - KOXM: Where's Vectorman & Earthworm Jim?
00:07:52 - Microsoft CES Keynote: Part 2!
00:10:00 - The Hotspot: Attack of the Sad Girl!
00:12:17 - Microsoft CES Keynote: Part 3!
00:13:13 - Retronaughts: The Saturn Sucks!
00:14:36 - Microsoft CES Keynote: Part 4!
00:15:35 - The Hotspot: Coldplay (No Really, Coldplay)!
00:18:01 - Microsoft CES Keynote: Part 5!
00:18:55 - Games For Windows: Again with the Sonic!
00:32:45 - Microsoft CES Keynote: Part 6!

(Technical Information: Somebody Else's Podcast! Vol. 9 runs for 36:13
at a size of 20.6 mb zipped or 20.7 mb unzipped.)