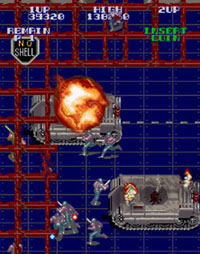 I don't care what anybody says, Super Contra didn't come out on the Super NES!
These days every website has a podcast, from GameSpot to IGN to 1up. But how many people actually have the time to listen to all of those podcasts? Well, Defunct Games does, and we're here to tell you what's good, what's bad and what's just plain ridiculous! We're here to comment on everything we disagree with, pull things out of context to make others look like fools and introduce you to the many wacky moments you would have otherwise missed. This is the first episode we've done since going to sunny southern California for the E3 Media & Business Summit and boy do we have a great show lined up for you today. It may only feature three different sections, but rest assured that this is the best Defunct Games podcast you will hear all month!
In our eighth episode of Somebody Else's Podcast we take on Major Nelson, the Achievement Junkies, and our good friends at Games For Windows Radio. Up first we hear what Major Nelson thought of the absolutely horrible E3 Microsoft Press Conference (here's a hint: he loved it). Do all of the other podcasts agree with his assessment? Is he just living in some dream world? These questions will be revealed when you listen to the first half of Somebody Else's Podcast. As a bonus we're going to show you what the Major thought of Sony's press conference. And that's not all, we also check in with Achievement Junkies to correct their non-stop misinformation. And we close out the show with yet another funny clip from GFW Radio, the one podcast you should be listening to each and every week. In this episode we learn some truly disturbing things about those people that populate the internet. Do you feel like you're up to it? I hope so because this is one of our best episodes yet. Ladies and gentlemen, I am proud to bring you yet another exciting episode of Somebody Else's Podcast ... now do your job and listen to it!
Like what you hear?
Digg It
!
Episode 14 - Somebody Else's Podcast! Vol. 8
00:00:00 - Introduction to Radio Free Gaming
00:02:05 - Major Nelson: Thoughts on E3 2007!
00:10:45 - Achievement Junkies: Super Contra on the Super NES?
00:15:37 - GFW Radio: Sexual Peer Pressure!

(Technical Information: Somebody Else's Podcast! Vol. 8 runs for 26:24
at a size of 14.9 mb zipped or 15.1 mb unzipped.)