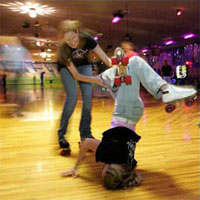 Warning: Don't let this kind of stupid thing happen to you!
These days every website has a podcast, from GameSpot to IGN to 1up. But how many people actually have the time to listen to all of those podcasts? Well, Defunct Games does, and we're here to tell you what's good, what's bad and what's just plain ridiculous! We're here to comment on everything we disagree with, pull things out of context to make others look like fools and introduce you to the many wacky moments you would have otherwise missed. This episode may only have two different podcasts, but I assure you that the clips found here are as good (if not better) than any you've heard in other episodes. As they say, it's not quantity, it's quality!
In our sixth episode of Somebody Else's Podcast we check in with GFW Radio and GameSpot, two podcasts that have a lot to say. We also spoil a bunch of game endings, explain the difference between jocks and gamers, laugh at inter-species sex, and discuss birthday parties. And that's not all, we even take a few moments to explain just what happened to Cyril and why there have been so few podcasts recently. This may not be the epic Radio Free Gaming episode that you've come to expect, but it still packs a nice wallop that should keep you entertained for at least a half hour. So grab some popcorn, get comfortable and enjoy the ride, because Somebody Else's Podcast is back and ready to remind you just why you have a subscription to Defunct Games!
Like what you hear?
Digg It
!
Episode 12 - Somebody Else's Podcast! Vol. 6
00:00:00 - Introduction to Radio Free Gaming
00:04:22 - GameSpot's The Hotspot: Trade In Your Games!
00:10:57 - GameSpot's The Hotspot: Birthday Parties!
00:16:20 - GFW Radio: 20 Year Old Spoilers!
00:20:30 - GFW Radio: The Mating Rituals of World or Warcraft!
00:26:45 - GFW Radio: High Five, More Dead Than Alive!

(Technical Information: Somebody Else's Podcast! Vol. 6 runs for 29:51
at a size of 26.4 mb zipped or 27.3 mb unzipped.)