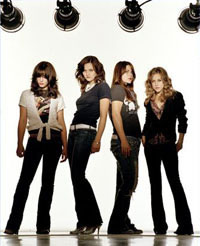 For some reason I don't think the Donna's are going to have trouble getting laid, even if they were playing plastic instruments in a video game!
These days every website has a podcast, from GameSpot to IGN to 1up. But how many people actually have the time to listen to all of those podcasts? Well, Defunct Games does, and we're here to tell you what's good, what's bad and what's just plain ridiculous! We're here to comment on everything we disagree with, pull things out of context to make others look like fools and introduce you to the many wacky moments you would have otherwise missed. And in this episode we show you exactly why a podcast dedicated to Sonic the Hedgehog is a bad idea! That's just one of the many reasons why you will want to check out this newest episode of Radio Free Gaming!
In our fifth episode we have yet another packed show full of a lot of good and a lot of bad. In this episode we learn that the EGM Live crew might just be racist, that the Games For Windows Radio guys don't exactly talk about computer games, that Ben Folds is a total jerk, that Major Nelson can't help but act like an infomercial and that the upcoming Harmonix game, Rock Band, isn't going to help you get laid. And that's not all; this episode has singing, stories about bathroom problems and people marrying Sonic the Hedgehog. And just when you think you can take it anymore, we debunk the Xbox 360 Elite and play some good music. This is our longest episode yet and it's filled to the brim with funny content, so now is your chance to fall in love with Somebody Else's Podcast. And best of all, we finally upgraded our microphone and equipment, so the sound quality is even better now. So sit down, lean back and get ready for our best episode of Somebody Else's Podcast yet, only on Radio Free Gaming!
Like what you hear?
Digg It
!
Episode 11 - Somebody Else's Podcast! Vol. 5
00:00:00 - Introduction to Radio Free Gaming
00:02:19 - Games For Windows: GFW Ryan Show/Singing!
00:04:29 - Games For Windows: "You Shit Your Pants!"
00:08:27 - Games For Windows: For The People Marrying Sonic!
00:15:30 - MTV's The G-Hole: Ben Folds Is A Dick!
00:18:00 - Game Theory: The Problem With Rock Band!
00:19:35 - EGM LIVE*: Somebody Get Al Sharpton On The Phone!
00:21:30 - Major Nelson: Debunking The Xbox 360 Elite!

(Technical Information: Somebody Else's Podcast! Vol. 4 runs for 25:48
at a size of 23.5 mb zipped or 23.6 mb unzipped.)