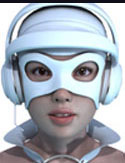 September 02, 2005
- What you're about to download is our 90 second promo for Radio Free Gaming. Programs like iTunes require us to have some sort of preview, a 90 second clip that allows people to judge whether they want to subscribe or not. This isn't a lot of time, especially for a complex show like Radio Free Gaming. But we think we've come up with something unique that will make people want to listen. We invite you to download this 90 second preview even if you're already experienced Radio Free Gaming, this is a nice bonus you won't find anywhere else. You may also want to send this to others in hopes that they will want to listen to Radio Free Gaming.
If you have not added Radio Free Gaming to your iTunes podcast list, then we implore you to
do that right now
. The more people
subscribe
to our feed on iTunes, the better chances we will have of being found and listened to. Defunct Games needs your help, and that involves
adding Radio Free Gaming to your iTunes
! Download this 90 second promo and then subscribe to season 1 of Radio Free Gaming.
Episode 0 - 90 Second Promo
00:00:01 - Thank You For Calling Radio Free Gaming

(Technical Information: Thank You For Calling Radio Free Gaming runs for 1:29 at a size of 1.01 mb zipped or 1.02 mb unzipped.)
MUSIC: Franz Schubert - Ave Marie
CYRIL LACHEL
Thank you for calling Radio Free Gaming, if you know your parties extension you can enter that at any time, for all other inquires please listen to our menu which has likely changed since the last time you called.

Press 1 to learn about Defunct Games' exciting new podcast full of news, interviews, and special guests. Yours every other week for absolutely no money down.

Press 2 to hear the exciting stories of what goes on behind the scenes of Radio Free Gaming, a podcast that isn't afraid to ask the hard questions to the wrong people.

Press 3 to learn all the juicy gossip about your host Cyril Lachel, a man who has lived his entire live with the crippling knowledge that he would never be a professional horse jockey.

Press 4 if you're confused why anybody would want to listen to a fake radio talk show over the internet.

Press 5 just because it has that little bump on the button.

Press 6 to just play Radio Free Gaming, a podcast that takes gaming about as seriously as Michael Jackson took his recent trial.

Press 7 if that Michael Jackson joke is out of date.

Press a combination of 8 and 3 to talk to somebody who has absolutely nothing to do with Radio Free Gaming or Defunct Games.

Or, if you'd like, you can stay on the line to play these options again. We apologize for your inconvenience, but we suggest you just go ahead and listen to Radio Free Gaming. That's Radio Free Gaming, a good source of fiber and sarcasm. Radio Free Gaming, the only podcast that's proven to be good for you. Radio Free Gaming, the only podcast called Radio Free Gaming.
MORE RECENT DEFUNCT GAMES ARTICLES ...
---
comments powered by