After nearly three hundred issues, Nintendo Power is finally coming to an end. To send this long-running periodical off in style, the Cover Critic has decided to review every single issue. Join him as he experiences every aspect of Nintendo's journey through their magazine covers.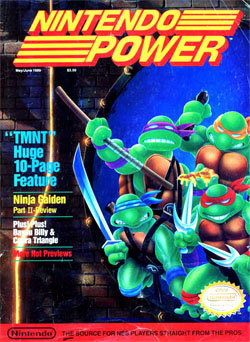 Click here to make larger!

It only took Nintendo Power six issues to become just as lazy as every other magazine on the newsstand. Blame it on the Teenage Mutant Ninja Turtles, who were simply too big to ignore. Here we have your standard artist's rendition of Leonardo, Donatello, Michelangelo and Raphael, all hanging out in the sewers. They're not doing anything particularly interesting, with the possible exception of Donatello (who is about to enjoy a slice of pepperoni pizza). The whole thing is just so ... expected.
By May of 1989, kids around the world had read the Teenage Mutant Ninja Turtles comics and memorized the daily cartoons. They knew the characters inside and out, including how each of them should look. Compared to the cartoon, these turtles look a little rough. The nose proportions are off and it's obvious this is a recreation. This may have fooled mom, but every kid knew this was a sloppy imitation of the original.
Of course, the sad truth is that Nintendo really didn't need to try. Tossing the Teenage Mutant Ninja Turtles on your cover is quick and a guaranteed way to increase sales. It doesn't matter if they don't look quite right, because this game will sell itself. A part of me hopes that Nintendo's artists weren't that cynical, but I'm not sure the alternative is much better. Either way, this is one of the least interesting Nintendo Power covers of all time.